Issue #14 August 4th - August 17th, 2006
Live Music Review: Trainwreck at VZD's
By: Adrian Fallwell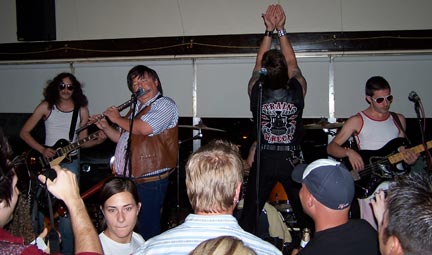 An incredible Trainwreck happened at VZD's last Friday, July 28th. One Klip Calhoun (a.k.a. Kage or Kyle Gass, K.G. of Tenacious D) and one Darryl Donald (a.k.a. J.R. Reed, Lee from the Tenacious D show) collided on stage with their chicken-fried style of rock 'n' roll-with-laughter ROCK. Unlike the simple acoustic sound of the "D", Trainwreck is a 5-piece package of southern rock mayhem, cowbell and all, but the talent and magic is still there, infused with down-home music that fits in perfectly with an Oklahoma crowd, as was apparent with their sold-out show.
"Your looking a little 'Johnny Cash' tonight," Darryl comments to Klip, "with a bit of 'Roy Clark' thrown in," a quip on both his shape and the rug on his head. Darryl whips out a comb from his back pocket and combs back his mullet. Joined by Shreddy on guitar, Dallas St. Bernard on skins, and the Freddy Mercury-looking bassist, Boy Johnny, the group breaks into an ode to their favorite drug of choice, "Pills":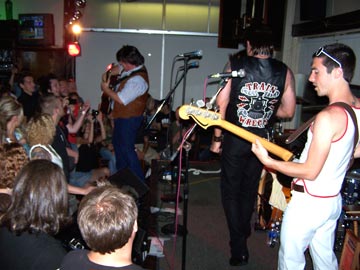 I know my baby's gonna leave me
Cuz my prescription's done been used
I think I just ran out of red ones
I know fer sure I don't have blues
In the middle of the song, the band starts to break apart and flounder, like they've ingested too much of their topic. Then the drums and bass pick up a funky groove while the others roll their arms around in the air in a hippie fashion. "Whoa, I feel like I'm at a Phish concert," says KG, I mean, Klip.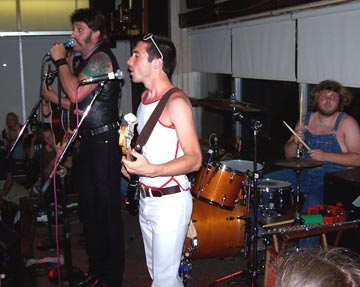 They rewarded the enthusiastic crowd with many encore covers, including "Footloose", "Eastbound & Down" (Smokey & the Bandit Theme), and "American Band". Oh, and one more to remember, as Klip introduces, "This one's for the ladies. How many of you ladies out there have dreamed of being a welder by day?" He pauses for the confused response, "A welder by day, but a STRIPPER by night?!" They then break into "What a Feeling". What a night it will be when they return again to OKC. You can check them out on-line at twreck.net or myspace.com/trainwreck, and check out some video clips of their VZD's show at NONzine.com.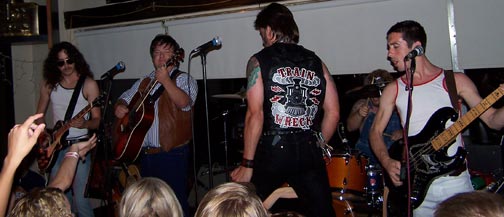 WATCH VIDEO CLIPS
OF THEIR PERFORMANCE AT VZD'S