Vol. 2, Issue #9 May 25th - June 7th, 2007
OKC's Red Cup Celebrates Local Artists
By: Brandy Dotson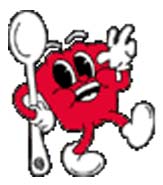 Celebrating art and community, the Red Cup recently sponsored its very own art show featuring the work of 40 local artists from a variety of different mediums, ages and backgrounds.
Kent Ortha, the Red Cup's nifty proprietor and his crew came up with the idea for the art show several weeks ago after remodeling the building directly in front of the cozy café located on N.W. 31st and Classen that used to be the dentist office of Dr. Kennedy. After the building was vacated by the previous tenant Ortha decided to buy it, paint it green and house it with fun, friends and artistic flair in order to get people into the building to check it out.
"We bought the building because it had 23 additional parking spaces but then we had to find something to do with the building so we had it rezoned for retail space so it could be rented out. The art show was a great sneak preview of the building. We are hoping someone came that wants to rent the building," said Ortha. "It was our word of mouth way to get people in to check the space out."
It turns out Red Cup patrons were driven to know what was inside because at Friday's art show, despite the fact that extra parking was available, the street along the neighborhood coffee shop was lined with cars up and down the block.
Once inside patrons were delighted to find a wide array of different talents showcased at the exhibit ranging from mixed media paintings to pottery.
According to Cristin Fields, the shows director, "It was a really nice demographic. We displayed everything from the work of established artists to high school students that were inspired to submit their work. We just tried to put in every submission we could."
Many of the pieces at the show were purchased giving some artists that might not otherwise have the ability to show their pieces the opportunity to gain established credit in Oklahoma City's growing art scene and for that we give the Red Cup props.
It was also a great way to bring the community together in a celebration of talent and aspiration.
"I just think it was a really neat idea. The Red Cup is big into promoting the community and the art show has a real sense of fellowship and community," said coffee shop patron Tony Owens.
Live music and refreshments were also served at the event encouraging many to stop in and check the building and art out.
If you didn't get a chance to make it to the art show I will tell you that the segmented space really would be a cool area to house a variety of different retail ventures and what a great location to open a business. Maybe I'll open that matchbox car shop I've always dreamed of having. But, if you're interested in beating me to the punch, you can contact Ortha with rental inquiries at 525-3430.
You better hurry though; my matchbox cars and I are scheduled for total world market penetration sometime within the next decade…just think of us as McMatchbox.