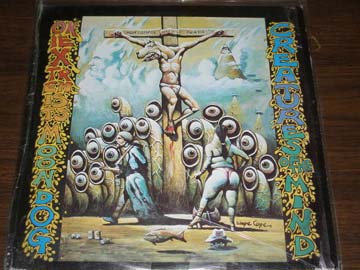 Paseo Junction was a venue that graced the Paseo District in the late seventies. I was blessed (and/or cursed, depending on whether you're more impressed by awesome memories or monetary success) to have owned it, along with my father (and infamous Oklahoma playwright) Bill Faulk. Our slogan, hand-screened on crappy t-shirts, which would now be called "vintage T's," was this:
"Oklahoma's only original venue for the visual and performing arts."
It was a noble endeavor, meaning that it didn't stand a snowball's chance in hell of earning any of us a living. Instead, we lived on cheap beer and the best local live music ever to grace the stage of Oklahoma City. Among the bands that played there were Mountain Smoke (whose guitarist Vince Gill later become a bit of a Nashville celebrity, and whose fiddle/mandolin player Jimmy Gyles was simply legendary), local favorites Basement Band and City Band, and a band called Natural Force, which featured the late Billy Paul on vocals. They had people dancing in the street at the first Paseo Street Fair. The collective lack of financial sustenance of the street's businesses played no small part in the four in the morning drunken "business meeting" at our bar that spawned the idea that eventually became known as the Paseo Festival, a tradition and the most fun/least pretentious arts and music festival in Oklahoma. Necessity truly is the mother of invention.
For those who don't live in the Oklahoma City area, Paseo is an arts district in the inner city, one that is experiencing a rebirth of late, filled with trendy clubs and art galleries, and young people wearing torn jeans and sixties and seventies looking clothes, drinking beer and talking about art, music, and politics. But back then, it was an art district filled with trendy clubs and art galleries and populated by.... well, young people wearing torn jeans and sixties and seventies looking clothes, drinking beer and talking about art, music, and politics.
The band that triggered this particular flashback was called Moondog, and boasted a unique songwriter named Bob Moore. Moondog also featured Jerry Steagall, one of the best guitarists to ever grace a stage, banjo player extraordinaire Terry Gill, and drummer Keith Mellington, who later played for some guy named Toby Keith. On their second album, they added Blair Montgomery, a phenomenal sax player who also happened to get me into trouble at every turn (yeah, blame it on the sax player).
I was asked to design a cover for the second album, which was released sometime around 1978, and so I banged out an acrylic painting called "Creatures of the Mind." At the last minute, they decided to use my artwork for the back cover, instead giving the front to some young upstart artist. I was highly offended, and actually pulled my painting from the album. I wasn't about to let my work be printed alongside some no-named artist who would never amount to anything...much less while I was relegated to the back cover.
How dare they!!!
Even worse, he was a kid who hung out with my younger brothers, and who I used to run out of my room on a regular basis. Stupid annoying brothers and their no-talent friends…
So, I recently asked Bob Moore to send me some Moondog CDs, specifically for a song of his called "Reefer Blues" which contained the memorable hook "Legalize marijuana and pay off the national debt."
Good stuff…and still a prudent national financial policy, in my opinion.
So I just received the aforementioned CDs, including a copy of the CD "Creatures of the Mind." I took a look at the offending cover art, and immediately felt kind of sorry for that wannabe artist. I was absolutely right for not wanting to see my work alongside that nobody. I'm guessing he's still a fry cook at some crappy fast food fish joint, dreaming of having half the career that I've had.
Poor fool.
Let's see, what was his name again? Let me look at the credits...cover art byyyyyy...yeah, there it is.
Wayne Coyne.
I wonder whatever happened to that loser?
(Mark Faulk's first book, entitled The Naked Truth: Investing in the Stock Play of a Lifetime, is now available at www.thenakedtruthbook.com We all know he's no rock star like Wayne, but even humble obscure authors have to make a living. And join Mark and Paul Faulk every Saturday from 1-2 PM CST on The Faulking Truth X2 Show at www.toginet.com)