Vol. 2, Issue #15 August 17th - August 30th, 2007
DVD Review: You're Gonna Miss Me: A Film About Roky Erickson
By: Wilhelm Murg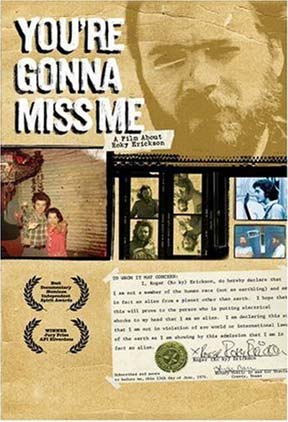 Roky Erickson is one of the true legends of garage punk and psychedelic music. Hailing from Austin, he formed The 13th Floor Elevators in 1965 when he was eighteen years old. The band released "The Psychedelic Sounds of The 13th Floor Elevators " in 1966, featuring their classic single "You're Gonna Miss Me." The album's success opened the doors for the Texas psychedelic sound, which included Bubble Puppy, The Red Crayola, Shiva's Headband, and The Moving Sideways (fronted by future ZZ Top guitarist Billy Gibbons). Janis Joplin almost joined the Elevators. Some people even say Erickson was the first person to apply the term "psychedelic" to music.
In the early 1980s Roky returned to the music scene with his new band, The Aliens, and a series of songs based on horror movies and demonic images that were equal, if not better, than his work with The Elevators. He was embraced by a whole new generation, and his classic "Burn The Flames" even turned up on the "Return of The Living Dead" soundtrack.
In between these two productive periods Roky had a very hard time. He used mountains of psychedelics; he was busted for pot and plead insanity in 1969, which lead to his diagnosis as a paranoid schizophrenic and a three-year stint in metal hospitals, where he was given both Thorazine and electroshock therapy against his will. At one point in the 1990s he simply gave up music altogether and lived with his mother, who was as creative and as crazy as Roky, in a co-dependent relationship. At that point his music was tangled in so many legal problems that he wasn't even receiving royalties for his body of work.
The documentary starts at that low point, in 2001, where his brother, Sumner, successfully sued to become Roky's legal guardian. The film gives a decent overview of Roky's career, with interviews with Gibbons, Thurston Moore of Sonic Youth, members of The Elevators, and Roky's family, but the insanity overshadows the legend in the narrative.
The crazy musician documentary seems to be a new subgenre; this can go on the shelf along with "The Pink Floyd and Syd Barrett Story" and "Derailroaded: Inside the Mind of Larry 'Wild Man' Fischer." Even though all of his immediate family are interviewed, "You're Gonna Miss Me" leaves more questions than answers. Was it illegal or legal drugs, electro shock, or bad genes that led to babbling Roky's breakdown? No one knows. The film ends with Roky on the road to recovery, due to the psychiatric help his brother got him, but it ends way too quickly. Some extra performances are given on the disc to show he's back in fine form.
When I first discovered Roky's music in the early 1980s his image was that of a fierce rocker that couldn't be held back. This documentary shows him as confused and pathetic. Now he's even seen as a part of the "outsider" movement, which is absurd – his contributions speak for themselves, and they came long before his breakdown. It's not a bad film, but as a rockumentary, it seems to borrow too much from the "Lifetime" disease of the week films.