Vol. 3, Issue #15 August 29th - Sept. 11th, 2008
Vinyl Musings: Ron Wood's I've Got My Own Album To Do & George Harrison's Living In The Material World
By: Dave Bond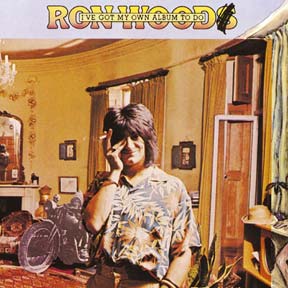 I've been listening to a lot of British, blues-based rock n' roll from the late Sixties and early Seventies. The Beatles' "Ballad of John and Yoko," and "Don't Let Me Down." John Lennon's Plastic Ono Band. George Harrison's All Things Must Pass. The Stones' Exile On Main St. "Stay With Me" by Faces with Rod Stewart and Ron Wood. Music that captured the tumultuous nature of the time, unsure of the future. Letting it "all hang out," as they say, but still keeping it tight.
It's interesting to see where those same artists went from there with their music. After about '72, it tended to be less about conflict and more about indulging whims (kind of like the Seventies). Still, such an attitude lent itself to music that could still be raw and pure, yet perhaps more inherently enjoyable, depending on who was playing it.
In another life, Wood and Harrison might've been the legends. But when you're backing up Jagger and Richards or Lennon and McCartney, it's possible to get lost in the shuffle. Still, in my recent vinyl searchings, I've acquired a couple "lost" albums by each that do justice to them and to the times they represent.
The first album Wood recorded under his own name was 1974's I've Got My Own Album To Do. At that point, Wood had been rising for years with Stewart, with whom he'd collaborated in the Jeff Beck group, Faces, and on Stewart's solo albums. In those settings, Wood handled much of the songwriting, yet was never the main attraction.
Not that he has to carry this whole record on his own, either. Keith Richards is part of the rhythm section throughout, adding his own grit. Wood would soon join the Stones full time, and you can hear the vetting process taking place. Other guests include both Stewart and Mick Jagger singing backup, Ian McLagan of Faces on the keys, and even Harrison on "Far East Man."
Two songs on the album are original Jagger and Richards compositions. "Act Together," with its gospel backup singers, sounds like a lost gem from Exile, and "Sure the One You Need" is a great unheralded Chuck Berry-style rip. "Am I Groovin' You" is one of the great funk-rock songs of all time. Seriously.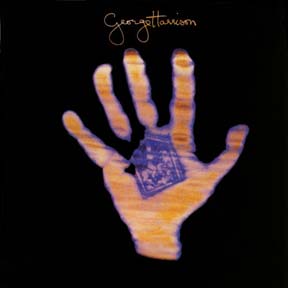 The previous year, Harrison had released Living In the Material World, his second proper solo album following the Beatles' breakup. Similar to his previous record, All Things Must Pass, it's full of the trademark Harrison sound; music that is naturally beautiful and sweeping. Perhaps more than any other Beatle, Harrison allowed producer Phil Spector's "wall of sound" to fully enrich his music, and the technique perhaps fit best with Harrison's personal style better than with that of the other three.
There are still plenty of rockin' and funk-influenced moments on the album -- again, in keeping with the times. But Harrison had a gift for making all the elements sound more organic and intertwined than most of his contemporaries. "Give Me Love--(Give Me Peace on Earth)" is another example of the "Far East Man" sound referenced on Wood's album. "Sue Me, Sue You Blues" has some great grooves on Rhodes piano. Still, the album has its mellow moments (my uncle says it was his "nap album" in college). But, like the Wood album, it is highly enjoyable and to be appreciated.