Issue #8 May 12th - May 25th, 2006
Trees on Pluto
By: Nathan Lofties
Photos By: Chad Mount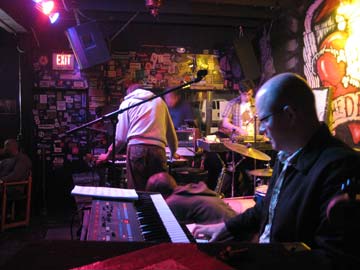 On April 26th at Norman's Deli, a random assortment of musicians took the stage under the guise of Trees on Pluto. With members hailing from local bands Oida and the ills, music so well focused wouldn't at all seem unusual, but the chosen format for the night was not counting down any pre-arranged set list. Trees on Pluto meant to improvise the entire thing.
I imagine it was a strange shock to those who were lucky enough to attend this showcasing of raw talent. It was unclear at first, around the 10 PM hour, just who had come out that night to hear an improvisational show as advertised. For those not aware of the night's plan, walking in the Deli just to get a drink must have seemed more odd than usual, as the stage itself resembled something more akin to a recording studio than the standard band assortment, with more emphasis on sound manipulation than straightforward playing. That idea in itself is enough to sound dodgy, but with expert-knob-twiddlers, Oida, as the foundations, the actual application of this couldn't have been pulled off any better.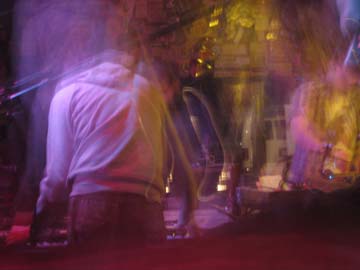 Not only was it hard to tell who had come for the show, it was difficult to tell that a show had started at all. There was no concise statement or round of applause signaling a beginning, but rather, a few people plugged in and began random bursts of sound from the Deli's darkened stage. A percussionist, Boyd Littell of the ills, sat down and began jagged, interspersed drumming, only to leave the stage soon afterwards with his rhythm staying behind, sampled, mangled and rearranged by Josh Heilaman of Oida. It seemed as though the rest of the players were drawn up naturally in due course, and soon all were kneeling and studying their respective devices, turning the scattered percussion and bass hits into a growing, breathing groove.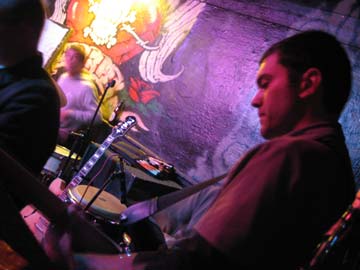 Before most of us in the audience had a chance to understand it, the set had transformed into a moving organism all its own, fed by the communal thoughts between the players, becoming a staggering piece of unrelenting music that caught and held the attention of nearly everyone in attendance. The piece eventually culminated when Littell returned to back the assortment of machines up, and the ills, Kasra George Ahmadi, introduced a saxophone and put it to the purpose of replicating the sense of several trains derailed from their tracks. With his horns, and the guitar effects of Kyle Caldwell, there was warning of an impending rupture in the walls of the Deli, with engines spilling in and over the entire place. The rise was to be consistently countered by the rhythm section, with Littell's skillful drumming intermingling with Blaine Nelson's ever-changing bass lines. Whenever the pace seemed in danger of wandering too far, these experienced players kept the tumultuous affair in check.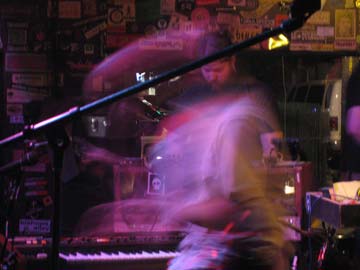 This improvised set, which went nonstop for over 2 hours, would go on to further shifts in tone and direction, always reaching and finding a new place for all the different elements to mix, and finding different ways to juxtapose the different ideas present. The crowd seemed enthralled, and more then a handful showed their appreciation through the timeless art of ridiculous-yet-inspired dancing.
For me, other then the pure pleasure from the music of the night, I was extremely impressed with the different elements that had come together for the show. Ricky Kemple spent some time on stage introducing different vocal elements to the set. Offering up different elements of percussion from tablas was Chase Spivey of Ghost of Monkshood, who could be found (but only if you looked twice) sitting behind Ryan Jones, keyboardist for the ills. All took ample part in the performance, often liberally trading instruments or stepping on and off stage as if cued by an unseen conductor.
I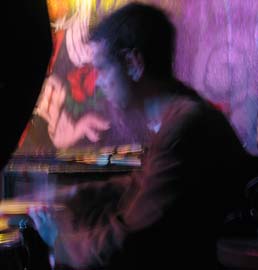 t was a humbling example of the creativity of all these individuals, and a reminder that their talent is in no way limited to their own pet projects, but an alive and identifiable thing, that can be applied anywhere and anytime. This simplistic thought is something that is exceptionally inspiring, and a fact, which, in essence, gives a new sense of depth to the local music scene.