Vol. 3, Issue #12 July 4th - July 17th, 2008
CD Reviews: Townes Van Zandt / Sleepy John Estes
By: Dave Bond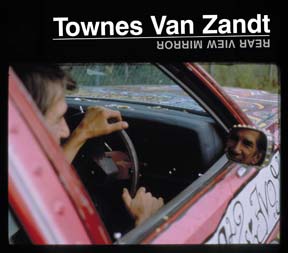 Townes Van Zandt: Rear View Mirror (Fat Possum Records / TVZ Records)
I've already written about the folk singer and songwriter Townes Van Zandt in these pages recently, but this new reissue of his album Rear View Mirror is simply to good to brush aside. Toward the end of his career, before he passed away in 1997, Van Zandt issued a few choice albums that showcased some of his most beloved songs in a new, live setting. At this point in his life, his voice had begun to grow deeper, likely thanks in no small part to the hard living to which he'd subjected himself. As well, these songs are played with spare arrangements -- usually just Van Zandt and his guitar, with occasionally another guitar or a fiddle accompanying. The result, similar to hearing Neil Young in a solo acoustic setting, is a collection of pure, refined gems of songs that are given the complete freedom to reach out and entrance the listener. Van Zandt's songs could be grim, often showing signs of the songwriter's inherent loneliness and his wandering nature. But they could also burst with life, in the same way as a good blues song. That makes sense when you consider that one of the Van Zandt's chief influences was the Texas blues legend Lightnin' Hopkins. Despite that comparison, all the songs here are Van Zandt's original compositions, and each carries its own weight among the whole. "For the Sake of the Song" is just as revealing as any of Bob Dylan's tales of confused romance. "White Freight Liner Blues" is played with an intense kinetic energy that embodies the spirit of a life spent on the road, constantly leaving stability behind. Finally, "Waitin' Around to Die" grips the soul in a way that only the finest blues laments can. In case you couldn't tell, this is an incredible piece of artistry contained on a single disc. Don't pass it by.
---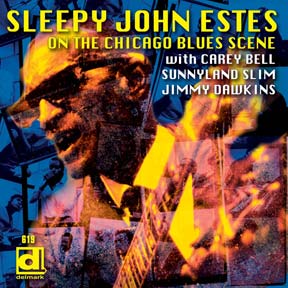 Sleepy John Estes: On the Chicago Blues Scene (Delmark Records)
This is another very, very good reissue. Sleepy John Estes was known as one of the great backwoods country blues talents of his generation. But as occasionally happened with some other great bluesmen in the late 1960s (see: Muddy Waters, Howlin' Wolf), this album features Estes with some of the young blues cats who were making noise at the time. However, unlike those aforementioned experiments, Estes wasn't paired with white blues punks from England or the coasts. Instead, backing him on this outing were some of the up-and-comers from the Chicago blues scene (hence the name of the album) at that time, such as the guitarist Jimmy Dawkins and the harmonica ace Carey Bell. Many of the songs are re-workings of familiar Estes tunes, but perhaps never had Estes been in an electric setting of this much vitality and vigor. And it works. Estes' lazy, strained vocals mesh perfectly with the raw, gritty Chicago blues style played by these masters. Bob Koester, the founder of Chicago's Delmark Records, was largely responsible for the re-emergence of Estes in the '60s. In the liner notes for this album, Koester writes that the inspiration for this setting came from his having witnessed Estes in a few scattered electric settings during the decade, when Estes would sit in with folks like Junior Wells, Sonny Boy Williamson, and Sunnyland Slim (who also appears here). At that time, Koester wrote that Estes was "an integral part of today's blues." Though Estes passed away in 1977, through reissues like these, he can play that role again today.