Vol. 3, Issue #11 June 20th - July 3rd, 2008
CD Reviews: Thomas Function / The Karl Denson Trio
By: Dave Bond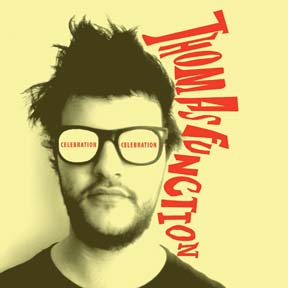 Thomas Function: Celebration! (Alive Records)
In no way whatsoever do I claim to be an aficionado of punk rock music. (The bulk of my knowledge of the genre comes from the No Thanks! box set that came out a few years ago.) But I'd like to think that I know good music when I hear it. And this, the debut album from a group of young punks from Alabama (yes, Alabama) called Thomas Function is, indeed, good music. Bringing together the best qualities of '70s punk and new wave, these guys produce a sound similar to that of other current acts like Modest Mouse, but with a more stripped-down, lighthearted taste to it. Really, they remind me more of some of the originals of the genre, such as Nick Lowe, the Buzzcocks, and even Television -- artists who didn't just play typical thrash-and-burn punk, but added subtle touches and put their own unique stamp on the music. You could see touches of country, or soul, or funk, as well, depending on the band; but at their core, they were just playing solid rock n' roll. Another point: You must admit that it takes some stones to play acoustic guitar on a punk album, but that's exactly what Thomas Function's lead singer and guitarist Joshua Macero does throughout on Celebration! And you definitely need guts to play any music that's this good at such a young age. The lads of Thomas Function are already receiving a wealth of great reviews from indie press throughout the country, but it will be interesting to see how (and if) more mainstream media latches on to this fantastic band. If not, at least you'll be able to say you heard about them early on, and had the opportunity to let their sound take you in. And you'll be able to say you enjoyed every minute of this incredible record. Immensely.
---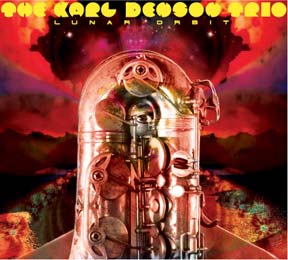 The Karl Denson Trio: Lunar Orbit (Bobby Ace Records)
The saxophonist and flautist Karl Denson is known for playing music rich in thick, muscular grooves. His sound is modern "soul jazz," the next logical step in the evolutionary chain from Maceo Parker and Fred Wesley, the great horn titans from James Brown's band. Having gotten his big break with Lenny Kravitz in the '90s, Denson has since made a name for himself on the jam band scene, often appearing with other acts who, of course, like to groove. On this album with his own trio, Denson lays down some decidedly urban grooves, smooth and full-bodied. The resulting album is maybe not as challenging or stimulating as some of Denson's previous work (I'm particularly fond of his 2001 album Dance Lesson #2), and it perhaps causes me to hearken back a little too much to the silky sounds of the '80s (though there's a touch of good Stevie Wonder in there, too). But the musicianship by all involved is top-notch, and the album is plenty enjoyable in its own right -- it's best use is probably as solid background music. In the end, Denson is still one of the more significant instrumentalists in music today, in that he can effortlessly move between rock, jazz, soul, funk, and just about everything else that those jam band hippie kids are listening to. Any project that Denson is involved in is worth checking out, and this album is no exception.