Issue #12 July 7th - July 20th, 2006
The Non
By: Nathan Lofties
Photos By: Hanna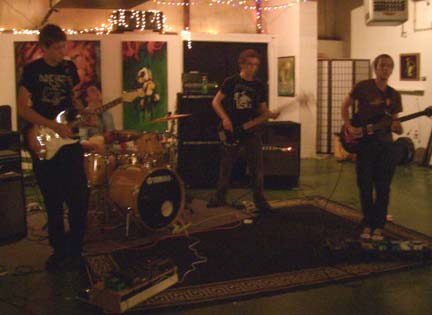 Zachary Zeller, Mack Hawkins, Wil Norton, and Tom Bishop, are a four-piece from Edmond that specializes in dropping your jaw. They claim to have been to space, and they call themselves The Non. If you've not seen them about, it could be that they're not quite old enough to join you at your local tavern, but they're perfect for the Electric Chair, which is and always has been conveniently located between Edmond and Norman. The Electric Chair may not provide the easiest access to Norman bound college students, but the site has been attracting both local and touring acts to its industrial-yet-intimate setting for some time now, while simultaneously allowing patrons to look through used CDs, take in eclectic art and photography, and browse the largest and best selection of new and used books that OKC will ever offer.
Electric Chair owner and proprietor Shilo Brown shows true pride in our red state in giving countless local bands the chance to try their hand live. Recently I caught myself at an EC show watching this Non band and was taken aback far more than usual. Such a young group processes it sound in a way that seems beyond their possible years, yet everything is succinct and deliberate. Upon first listen, it's obvious that The Non worships at the alters of all post rockers that have come up in the last decade: Godspeed You! Black Emperor, Sigur Ros, and Explosions in the Sky to name a few of the more recognizable. Sounds as bombastic as those used by this local group are trademark for such bands. But The Non immediately display a further sense of understanding, one that at times seems to delve deeper than even their influences. These players seem to remember the side of post-rock that reaches back to such names as Tortoise and Slint, groups common in the idea that music in its most expressive form need not be bound to the simplest of melodies or structures.
Over the course of the set that I witnessed The Non play, they demonstrated a clear ability to incorporate various melodies and sounds, using the ambient style of delayed guitar to full effect only behind a direct sense of bass and drum. Percussion here was lent to a sense of randomness that was, in truth, focused; changing time signatures to signify, at one moment, a classical rock exploration, and at the next, a completely left-field run through funk. Throughout all, the idea of standard post-rock climax is kept, but only utilized when actually necessary, making the entire affair seem deliberate and forceful in a way that many such bands could only dream of, let alone ever achieve.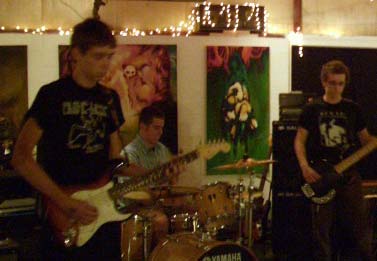 The various musical influences that became apparent in The Non's instrumental musings kept the set I witnessed tight, and things surprisingly never once fell into the trap of simply wandering or searching without aim. This is an added shock to me when I learned the band has no recorded material, only demo's that we're taken while playing live and simply "jamming". For a band that created their music in such a way, it's amazing to hear that The Non's actual live product has zero to do with the trappings of a jam band, and everything to do with style and consistent delivery.
Other then a refreshingly professional live sound, the band offers its own visual tricks. Watching the guitarists interact with each other and their pedal boards is a sort of science. And when they channel live cell phone chatter through their guitar pickups, it would almost seem like a gimmick if the resulting sound didn't reverberate through you and around you. Bassist and Drummer never had to search for each others cues, instead relying on the instant knowledge that everything is in its right place, and the resulting music exudes this confidence.
The Non are a band that are still striking out, yet despite the reality that they've only been playing together since the early months of 2006, they've already found an astonishingly beautiful sound to call their own in an area of very repetitive music. They're currently booking shows wherever they can, and will be playing The Conservatory with touring act, Tenebre, and local band, Tyler's Stereo, on July 27th. They are also planning to play the reverb-friendly Electric Chair again as well. They're evolving schedule can be checked out at http://www.myspace.com/thenonband.