Issue #9 May 26th - June 8th, 2006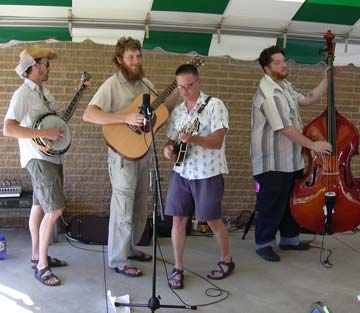 Live Music Review:
Tall Cotton
By: Sheridan Marquardt III
Band: Tall Cotton String Band
Christopher P. Robinson: Banjo and Vocals
Jake Massey: Guitar and Vocals
Joshua Pitt: Doghouse Bass and Vocals
Sheridan Marquardt III: Mandolin and Vocals
Venue: The Fountains at Canterbury Retirement Community
Cover: Free (private event)
Quote of the night:
"That new lady on the 2nd floor is an old Deadhead. You can trade your pills for her dessert!"
- overheard in the women's restroom.
Since NONzine will let me talk about whatever I want in my articles, I figured I would tell you about a regular experience I have with my band mates.  Not all live music is in bars, or at concerts. Churches, parties, living rooms and parks are just a few places that one could see some amazing talent and the best performances. Playing in a progressive bluegrass band has many cool and interesting facets. We all have one main thing in common - a passionate love for the traditional and original songs that helped create the genre. It is a style still referred to as the "High Lonesome Sound."  So, obviously, performing for an older audience is an option that some bands just don't get, but we can do with no problem.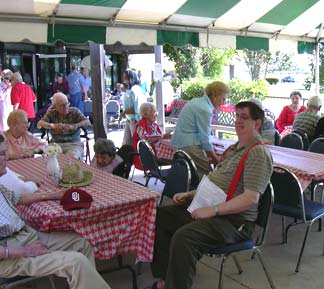 As we were setting up our small stand around a microphone (just like the ones used 50 years ago), people started to file down from their apartments and rooms onto the patio.
There seemed to be a sense of anticipation and excitement.  Maybe it was the sign in the TV Room that said "Bluegrass Festival with Tall Cotton String Band," or the sweet aroma of burgers, brats, bbq, and beer. (That's right, beer. Hell, just because they're old, doesn't mean they don't want to get down and boogie!)
Luckily they shared the adult beverages with us and we felt right at home. We started our set with a great old hit called Mountain Dew. Most people immediately sang along and got up and danced. - walkers and all! One lady even showed us that walkers not only help you scoot along, they make excellent mixed drink holders. Watch out for her, she's a pistol! Some of the residents are less spry than others, and those folks were the ones who made the biggest impression on me.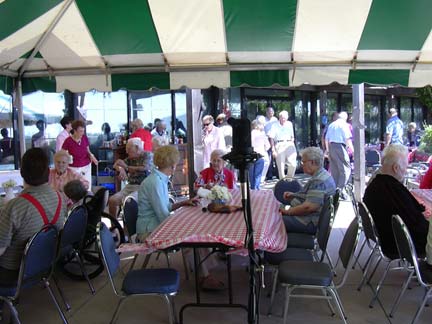 A gentleman I had the pleasure of sharing a piece of apple pie with said, "Sometimes getting older isn't all it's cracked up to be."
Some folks were wheeled out in wheelchairs and lined up so they could see the show. I cannot describe the looks on their faces as we continued to play originals and traditional numbers that included everything from Woody Guthrie and fiddle tunes to The Violent Femmes. The closest I could get would be to call it "Elated Joy." I'm not saying that these folks aren't normally happy, but the smiles that arose on their faces when were playing were not only huge but infectious.
Anyway I guess what I'm trying to convey is no matter where you perform as an artist some of the best shows are not where you would expect them to be, and sometimes they will sneak up on you and remind you what humanity should really be about.