Vol. 3, Issue #4 February 22nd - March 6th, 2008
CD Reviews: Alabama Slim & Little Freddie King, Georgia Blues Today, and Mike Dillon's Go-Go Jungle
By: Dave Bond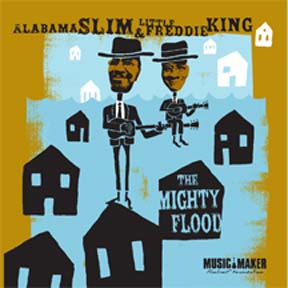 Alabama Slim & Little Freddie King: The Mighty Flood (Music Maker Relief Foundation)
When Hurricane Katrina hit in 2005, bluesmen Alabama Slim and Little Freddie King were both living in New Orleans. They each made it out of the disaster alive, though for a few days after the storm there was concern within music circles that King had been lost.
The title track to the duo's latest album The Mighty Flood recounts the experience. The song is a murky, low-key, electric blues gem, as is the rest of the album. Slim handles the majority of the vocals and rhythm guitar throughout, with King on lead guitar, and together they conjure up a unique and groovy blues atmosphere that takes you in and refuses to let you go.
Tim Duffy's North Carolina-based Music Maker Relief Foundation specializes in producing albums for Southern blues musicians who are advanced in age, down on their luck financially, and not usually in a position to otherwise get a record deal. With The Mighty Flood, they've struck gold yet again, proving that the mine of authentic American blues musicians has yet to be completely tapped out.
---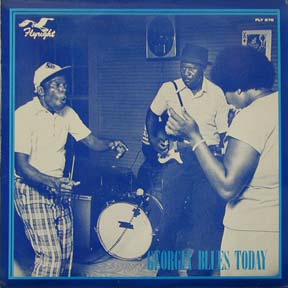 Various Artist: Georgia Blues Today: The George Mitchell Collection (Fat Possum Records)
This collection of recordings by little-known country blues singers was made by George Mitchell during his travels throughout rural Georgia in the mid-to-late 1970s.
The word "Today" in the title is a bit of a misnomer, considering when the tracks were recorded. But it's still somewhat appropriate, as these songs will sound fresh to many blues enthusiasts who've quite likely never heard them before.
During the 20th Century, numerous strains of country blues formed outside the Mississippi delta in different areas of the South, and each artist on this collection has their own unique style. (And few of them sound much like Muddy Waters.) William Robertson (also known as Cecil Barfield) has the voice of a dying frog, John Lee Ziegler is accompanied by another gentleman playing the spoons, and Jimmy Lee Williams plays a ragged groove on a battered electric guitar. Perhaps the only thing most of them have in common is the hypnotic drone that permeates their music.
Mitchell specialized in recording crusty old blues players from the poorest areas of the South. Most performed using little more than their voice and an old, beat-up guitar, but their souls were on full display. Essential listening.
---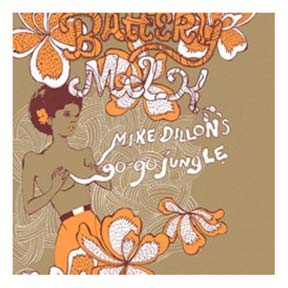 Mike Dillon's Go-Go Jungle: Battery Milk (Hyena Records)
Vibraphonist Mike Dillon has played with many of the individuals (such as Les Claypool, Charlie Hunter and Stanton Moore) who have been working diligently for years to bring the jazz-funk genre into the 21st Century. So it's no surprise that this, the first album from Dillon's own group the Go-Go Jungle, features his own personal take on the subject.
That said "take" often varies between the avant-garde and the just plan freaky, thanks to some adventurous use of tone from the whole ensemble and some rather unsettling vocal stylings from John Hill and bassist JJ "Jungle" Richards (but his bass is so good, so funky). All the while, the group's solid use of percussion and rhythm keeps the album consistently grooving and prevents everyone from veering too far off course. The end result is sometimes a little "out there", but it's also another intriguing look at how jazz, funk and rock can be convincingly fused together in the new millennium to create something entirely unique. [Highlight: a revised take on the Aaron Neville funk classic, "Hercules".]