Vol. 3, Issue #13 July 18th - July 31st, 2008
CD Reviews: Scrapomatic / Mississippi Heat
By: Dave Bond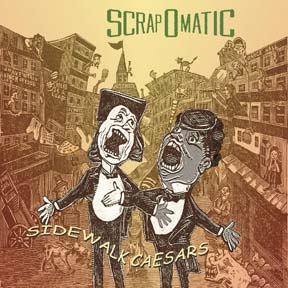 Scrapomatic: Sidewalk Ceasers (Landslide Records)
Scrapomatic is a modern-era soul and blues band consisting of guitarist Paul Olsen and singer Mike Mattison. The latter has gained some genre notoriety in recent years as the lead vocalist of the Derek Trucks Band, and Trucks, the slide guitar wizard, guests on a couple of tracks on this album. Now, I must be honest and say that I stopped listening to Trucks' new material after Mattison joined the band because I found Mattison's singing less than genuine, as though he's trying much too hard (and his performance on this album appears to be more of the same). Also, many of the songs here come across as fairly unimaginative, played almost too crisply to be authentic blues (a trait far too common among blues musicians today). And while there are some decent tracks on this album, none grabbed me in a strong way. All that being said, like other younger artists at the current time such as the North Mississippi Allstars and Joe Bonamassa -- who share many of the other traits mentioned above, as well -- Olsen and Mattison should be commended for their heartfelt effort to keep blues and soul music alive and relevant in a time when most other members of their generation quite frankly couldn't care less. There are others perhaps doing a better job at the playing of the music itself, but we must not overlook each of these artists' contributions to the continuing legacy of truly soulful music. To do so would be unappreciative of their endeavors, both individually and as a whole, and short-sided as to the enduring nature of the blues.
---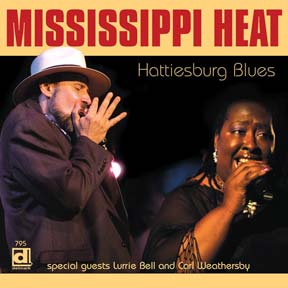 Mississippi Heat: Hattiesburg Blues (Delmark Records)
Here's another example of a blues album that should be recognized as a good effort, though not necessarily placed on the "best albums" list. This, the new record from Mississippi Heat, a blues revue of sorts that is led by the harpist Pierre Lacocque, isn't bad by any stretch. But when I've just been listening to songs like "Don't Throw Your Love On Me So Strong" by Albert King, or "Texas" by the Electric Flag, or YouTube videos of Buddy Guy from 1969 (one with Buddy Miles and another with Roland Kirk!), it makes it very, very hard for this album to compare. Here's the deal: Unless Ponce de Leon is holding out on us, we've each got only so much time here on this earth. Meanwhile, there's an endless supply of music in the world, and, unfortunately, you'll never have time to listen to it all. So I prefer to spend my time listening to the very best that I can get my hands on. Other folks would rather listen to whatever's new, be it great, awful, or somewhere in between. That's their prerogative. And please, let me be clear: This is a good Chicago blues album. Lacocque is an excellent harp player, the rhythm section and the horns are solid behind him, and there are several great guest artists in the rotation, including the great Chicago blues guitarist Lurrie Bell. So please don't think that I'm ripping on this album. In fact, if it's new blues that you're looking for, then this is as good a place to start as any. All I'm saying is that if you really want to know what truly great blues music of the highest caliber is all about, and considering what limited time you have to spare, throw on some Albert King and get educated. Your life will be better for it.