Vol. 2, Issue #22 November 21st - December 6th, 2007
CD Review: Rob Poppy -- Box of Laughs
By: Becky Carman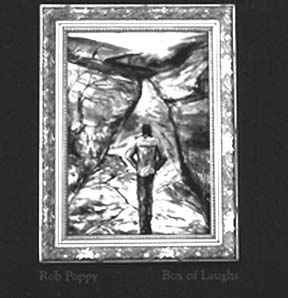 "Superfreaks, supergeeks, rock and roll," sings under-the-radar Norman musician Rob Poppy on "French Toast," the second track off Box of Laughs. Try to find some correlation between French toast and rock and roll, and you will understand what it's like to attempt to understand exactly what Poppy is playing at on this record. Is it a joke? Is he serious? Is he really mispronouncing "schizo" that many times in a single track?
At its best, there's some capable musicianship behind the songs. At worst, this is some conglomeration of every early '90s pop rock band you never wanted to hear again. Nobody wants to listen to a record profoundly influenced by Barenaked Ladies (sorry, Canada).
"Freedom of Rhythm and Key" is, essentially, the violin solo in an early Dave Matthews Band song, where, yeah, maybe it's okay for a bit, but sooner or later you end up wishing he would shut up so the rest of the song could continue. The instrumental interludes are interesting, in that maybe you wouldn't have minded hearing them at Foley's when your mom dragged you along dress shopping when you were 11.
As a serious attempt, Box of Laughs is exactly that – laughable. As an audition tape for Nickelodeon, or a soundtrack to soccer mom consumerism, it's pitch perfect.