Vol. 3, Issue #7 April 4th - April 17th, 2008
Book Review: Palestine: The Special Edition (Fantagraphic Books)
By: Wilhelm Murg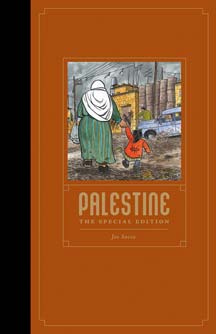 Upon it's initial publication as individual comic issues in 1993, Joe Sacco took the "graphic novel" to a new level with "Palestine," where it became an epic, journalistic documentary about his adventures in the Israeli-Palestinian occupied zone. It's heady stuff for a funny book. While he does talk to some Israelis, both sympathetic and unsympathetic to the Palestinian plight, the main focus is on the day-to-day life in the Gaza Strip and The West Bank. In Sacco's New Journalism stance he is unwaveringly pro-Palestine, but I'm sure anyone in his position would have the same view.
While the epic structure that holds the work together is Sacco's journeys in 1991 & 1992, and his image runs throughout the comic as an innocent abroad, the true stars are the Palestinian people. Sacco stops his narrative when he meets other people, and we graphically go into their stories of beatings, torture, destruction of their homes, and the general state of repression at the hands of the Israelis.
What is interesting is that while this Biblical conflict has gone on for so long that here in the west we are almost numb to it, that same numbness is felt over there among the Palestinians. It is a given that if you are Palestinian man you have been arrested or spent time in prison and tortured even if you are nothing but an innocent bystander. The sense of hopelessness is felt throughout the entire work.
The original graphic novel received the American Book Award in 1996. This new edition features the entire 288 page graphic novel, plus an extensive interview with Sacco, and his background notes, sketches, and photo references. Sacco has gone on to write and draw other works on the Middle East, including "Safe Area Goražde: The War in Eastern Bosnia 1992-1995," "The Fixer: A Story from Sarajevo," and "War's End: Profiles from Bosnia 1995-96," and he is a frequent contributor to Harvey Pekar's "American Splendor."
While this is certainly not for everyone, and I even found myself bored in parts of it, it's hard not to admire the execution of such an odd concept. But like some bizarre cross between R. Crumb and Ted Koppel, it works and eloquently gets it's point across.