Vol. 2, Issue #18 Sept. 28th - October 11th, 2007
CD Reviews: The Neighborhood - Our Voices Choked with Fireworks
By: Becky Carman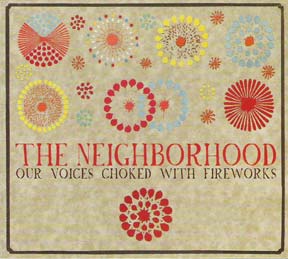 If ever a local band deserved credit for treading the path not taken, it would be The Neighborhood. How refreshing it is for a gimmickless band from Norman to find some measure of success. On this, their highly-anticipated (and highly-delayed) debut full-length, "Our Voices Choked With Fireworks," the familiar indie strains prevalent on most bands of their age and genre are overshadowed—not by unrelated quirks or shortcomings, not by a certain song, not by a single band member whose talents outshine the rest—but by the ingenuity of the finished product and the craftsmanship evident in its production.
The vocal clarity of singer/guitarist Philip Rice is of the variety that silences a room, and the instrumentals are designed to showcase this power of captivation. Even on the heavier tracks like "Stand Up, Chin Up, and Say," The Neighborhood are clever enough to recognize that no level of distortion could do proper justice.
Complementary though it may be, relegating the music itself to support status would be an even graver mistake. Drummer Matt Duckworth and bassist Eric Mai are frequently lauded for their originality, and rightfully so. The chemistry and coordination of nearly every second of every song is mathematical—the percussion riffs are pivotal (case in point: "The Television Set"), the bass lines are as vital as the actual melodies (see: "Oh the Lights, Oh the Colors"). Even the purposefully ill-timed handclaps and field recordings from Mai's sound odyssey through New York are lovingly laid into place, and where a synth note or drum beat may startle you at first, the combinations quickly meld together and start to make sense in a way that few concept albums could ever hope to achieve.
The Neighborhood scheduled a CD release show for October 11 at New York Pizza & Pasta, 217 W. Boyd Street, Campus Corner in Norman.