Vol. 3, Issue #8 April 18th - March 1st, 2008
CD Reviews: Brad Mehldau Trio, James Blood Ulmer, & Robert Jr. Lockwood
By: Dave Bond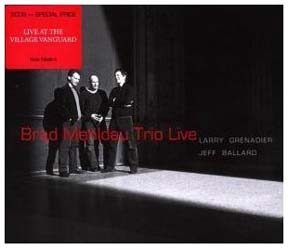 Brad Mehldau Trio: Live (Nonesuch Records)
As a pianist, Brad Mehldau attacks his instrument with a sense of graceful purpose that surpasses nearly every one of his contemporaries. On this, his newly released live trio album, he performs every selection -- be they slow-tempo ballads, upbeat bop numbers, or his always enjoyable modern rock covers -- with the same explosive elegance that he has come to epitomize for over a decade. It's as though he's introducing the wonderfully impressionistic style of the pianist Bill Evans to a new generation, and building upon Evans' ideas.
The highlights on this two-disc set -- recorded live at the historic Village Vanguard in New York City -- are many, and include a wealth of Mehldau's original compositions and a few expertly selected covers. Two tracks stand out, in particular: The first being a sweeping rendition of "Black Hole Sun," originally recorded by the band Soundgarden. The second, which opens the first disc, is a spicy, funky, and addictive interpretation of the Oasis classic "Wonderwall," which will leave any listener with true taste eagerly thirsting for more. Bassist Larry Grenadier and drummer Jeff Ballard provide superb accompaniment throughout, and in the end, this reviewer realizes that the only thing that could have made the album any better is to have experienced its original performance in person.
---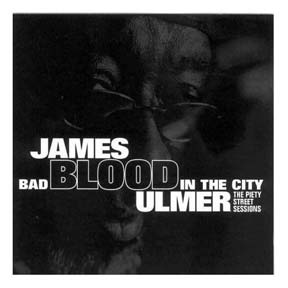 James Blood Ulmer: Bad Blood in the City: The Piety Street Sessions (Hyena Records)
James Blood Ulmer is anything but complacent. The guitarist and vocalist originally made a name for himself shredding with Ornette Coleman on the avant-garde scene. In recent years, he's applied his unique musical approach to the blues, turning out a series of albums for Hyena Records.
Keep in mind, though, this ain't your grandpa's blues. Produced by former In Living Color frontman Vernon Reid, the album is a storm of aggressive, industrial-strength blues, with doses of '90s-era hard rock and funk mixed in. Ulmer holds forth from that platform on a variety of topics, including taking a less-than-veiled swipe at the current White House administration ("Dead Presidents"). He also provides ample commentary on the aftermath of Hurricane Katrina ("Survivors of the Hurricane", "Katrina"), and the album itself was recorded in New Orleans. As well, Ulmer gives idiosyncratic readings of classic blues numbers by John Lee Hooker and Junior Kimbrough, among others.
This album may be a rough jolt for more traditional blues fans; it certainly was for me. But upon further listening, new layers are discovered, and an appreciation for Ulmer's highly personal style can be cultivated. Check it out if you're looking for a new blues scene.
---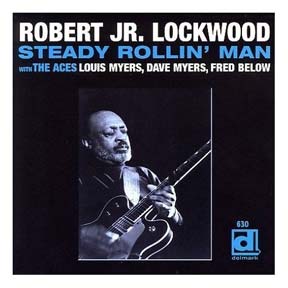 Robert Jr. Lockwood: Steady Rollin' Man (Delmark Records)
Fans of old-school Chicago blues, here is an album for you. Robert Jr. Lockwood was born in rural Arkansas in 1915 and grew up as a musical protege of the legendary bluesman Robert Johnson (hence the title, "Robert Junior"). Like many southern blacks, he relocated in the 1940s to Chicago, where he worked as a sideman for a number of blues masters, including Sonny Boy Williamson and Little Walter. Eventually, Lockwood began leading his own bands, including the lineup that appears on this set, recorded in 1970 for Delmark Records. The result is a low-key, churning, grooving session that spotlights one of the more underrated practitioners of the craft. In fact, this reissue version of the album is probably one of the more important blues reissues to appear in the past few years because it does provide a showcase for a stellar bluesman who often got lost in the shuffle behind the larger, more boisterous legends of his genre. Not to be missed.