This is the story of Matthew Alvin Brown. First, the facts: Okie boy, fresh out of high-school, moves to New York to attend the BMI Music Theatre Writer's Workshop from '97-'98. His ambition was to write musicals, but he grew despondent with the "cheeze" involved, and preferred the stylings of rock music instead.
He came back to Oklahoma to regroup with the comedy troupe, One Hit Wonder; that then moved to L.A. to study at the HBO Workspace. Here, at the turn of the century, they performed at the Bumbershoot Festival in Seattle and the U.S. Comedy Arts Festival in Aspen, scoring them an internet radio show on comedyworld.com. During this time, he and fellow trouper, Derek Doublin, created the "absurdist musical comedy" feature film, Mouthgarden, for only a $1000, which won the 2003 New York Independent Film Festival-Best Comedy Feature and the 2003 Deadcenter Film Festival-Best Oklahoma Film.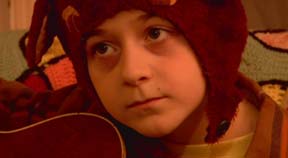 After returning to OKC in '01, he linked up with several very talented musicians to form the band, The Fellowship Students. The band amazed many a bar crowd with their technical prowess and creative range of styles, but that was nothing compared to the jaws that dropped when Matt took the lead in The Chocolate Factory's 2002 presentation of Hedwig & the Angry Inch. Performing with fellow band mates and other local talent, the show drew high acclaim, and he followed with another strong performance as Berger in Chocolate Factory's 2003 Hair.
He then re-teamed with friends Derek Doublin and Ray Prewitt for the band, The Invisible Snakes, which unfortunately only performed once. The "animal rescue" themed show included their musical performance combined with a theatrical set and projected video of short films made specifically for the show. Again, jaw dropping.


So now, background established, this is the story of Matthew Alvin Brown…kind of, as told by Matthew Alvin Brown, performed by The Fellowship Students, and it's called Rainbow around the Sun. That is to say, it is a loose interpretation of Matt's life so far this millennium and it's divided into three acts and an epilogue.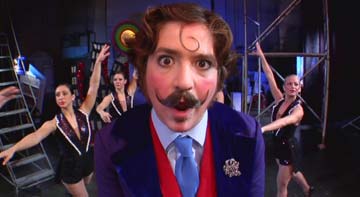 The first act begins back in L.A. with our main character disillusioned with the fake Hollywood environment, in the overly upbeat, yet cynical song, "Mouthgarden".
Contemplation, aggravation, tribulation, they can bring you down. Humiliation, isolation, all those 'ations, make the world go 'round. Repetition, repetition, repetition fills your nights and days. Repetition, repetition, repetition fills your nights and days.
The next song waltzes back and forth with a heavy drunken feel, and tells us of his return home, in "A Bottle of Wine for the Road".
If you see me out there, slap me in the face, tell me I'm a waste of space, rip my heart out, put it in the trash, shut the lid. So long kid, I didn't need that old muscle anyway, oh no.
In act two, Matt's character is playing bars and drinking way too much. The song "The Babies" stands out with its thick distorted sound that has a joyous Muppet-like playfulness to it. Producer, Nathan Siler, takes this song to a new level, which is why Matt calls Nathan his "George Martin". Check out these fantastic lyrics:
Now we got church vans at the Hi-Lo, we sing songs about champagne. We got fancy dancin' outlaws reassuring us we're sane, but we're still in Kindergarten and it looks as if we're here to stay. Well, someone change our diaper so we don't sit in our shit all day. I have reached my full potential and a promising career. I'm a 30-year old busboy and my momma thinks I'm queer 'cause I haven't found a lady to put up with my retarded way. Someone change my diaper so I don't sit in my shit all day.
He meets a girl, but still feels an emptiness that won't let him be happy. He loses the girl and falls even further in his hole. The act reaches a climax with the title track, "Rainbow around the Sun", swelling with real string and horn sections.
Hope you know it's true, I look up to you. You don't know what I'm saying when I say the things I say when I get drunk. And I can clearly see, you look up to me. You don't know what I'm feeling when I'm feeling like the world thinks I'm a punk.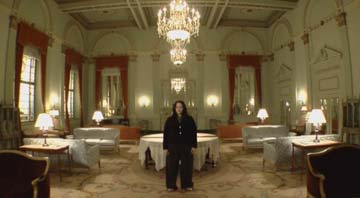 Then, in act three, the album takes a very personal turn as the story reflects the actual death of Matt's father, Thomas Alvin Brown. It starts with "Nothin' Rings a Bell Anymore", which is an enduring up-tempo country song with an incredible pedal steel guitar performance by Kevin Webb of Burtschi Bros fame. It personally reminded me of Ween's Twelve Golden Country Greats and the all-star players they had backing them up.
Wrestle with my TV, bought a box of straws. Cut canyons in my counter top and jumbled up my jowls. Lipstick on my pillow and a bull whip by the door, don't ask me why, man, nothin' rings a bell anymore.
The next song is my favorite on the album, "Cupcake". The brush work done by drummer Jacob Becannen is as breathtaking as is the recording and production value that makes it so sweet on the ears. It gives me goose-bumps every time I hear it. I believe the song is about learning of his father's terminal illness.
Cupcake, don't cry. Everybody's Daddy gonna die.
After a loving tribute to his father, the music takes an unexpected curve in tempo and shuffles into a cabaret like ending with "Take Me Home". Mark Vollertsen's piano playing is just remarkable on this track.
In the very end, after falling so far, the main character seems humbled from losing what he truly loved the most. He learns to appreciate what he has, but perhaps still does not know who he is, in the finale, "Everything Is Better Now…Kind of".
Took a step outside, suddenly wide-eyed. Everything is better now. Took a breath outside, told the clouds to hide. Everything is better now…kind of. Windshield wipers on my eyes.
After listening to the album several times now, I am hooked. Great achievements are to be found here! The songwriting, musicianship, orchestration and detailed production of this masterpiece cannot be topped…unless, of course, they make a movie for it…and that's just what they did. The feature-length film, Rainbow around the Sun, directed by Beau Leland and Kevin Ely, is almost finished and out, so stay tuned in by checking out the web sites, matthewalvinbrown.com, and myspace.com/rainbowaroundthesun.