Vol. 2, Issue #2 Feb. 16th - March 1st, 2007
DVD Review:
The Films of Kenneth Anger Vol. 1 (Fantoma)
By: Wilhelm Murg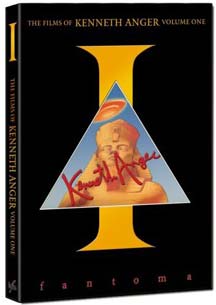 Director Kenneth Anger is one of the great visionaries of the avant-garde who started releasing his experimental films shortly after World War II. Because of his sixty years behind the camera, he has become not only a grand master of the genre, but also a link from the early European movement (Jean Cocteau proclaimed his 1947 film "Fireworks" a masterpiece and invited him to France) all the way up to Warhol's underground period in the sixties, and on to our current Indy age. All of his films are shorts, ranging from three to thirty minutes in length, shot without dialogue, and they often deal with themes of sadomasochistic homo-erotica and Alistair Crowley-styled magick. His films have blurred over to the psychedelic rock world, with one soundtrack by Mick Jagger and an aborted soundtrack by Jimmy Page. He has also included the notorious in his film crews, such as the founder of the Church of Satan, Anton LeVey, and convicted murderer and Manson Family member Bobby "Cupid" Beausoleil, who finished one of his soundtracks in prison.
This disc collects five of Anger's earliest surviving masterpieces, produced from 1947-1954. "Fireworks" is a mesmerizing meditation on violence, where gay bashing and sadism blur together – many see it as the first major film to deal with homosexuality. "Puce Moment" is a short visual treat that plays with the idea of the old-fashioned Hollywood glamour, while "Rabbit's Moon" is a beautifully produced fairy tale using mimes and ideas from Kabuki theatre.
The heaviest films are saved for last. The penultimate film, the majestic "Eaux d'Artifice," was filmed in the baroque water gardens of the Villa d'Este in Tivoli, Italy. Anger filmed a four foot woman (to give the gardens extra scale) walking around using a red filter on black and white stock, then printed it on color film; in this experimental process, the film is given an icy blue tint and the water seems to be electric. The Library of Congress lists "Eaux d'Artifice" on the National Film Registry as both an aesthetic and technical masterwork.
The final piece, "The Inauguration of the Pleasure Dome," points to the next direction in Anger's work; a purposely-decadent set of jewelry and kitsch explodes in bizarre colors as Anger mixes mythology with hallucinatory film techniques. Anger would remake the film twice again, with different settings, before the century was over. The film includes a rare appearance by the great erotica writer Anaïs Nin, who plays – what else? – a goddess.
The DVD includes commentary tracks by Anger, along with a 48-page book on his career with an introduction by Martin Scorsese. This is one of the major places to start for anyone interested in true experimental filmmaking.