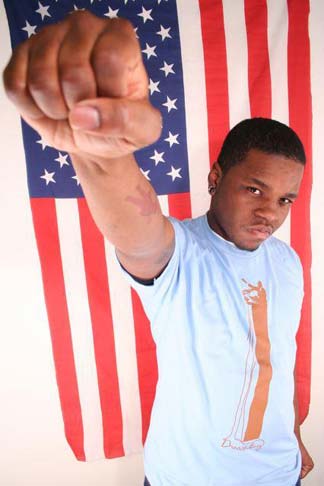 I am constantly picking up magazines like Source, Scratch, and URB, and always surfing the net, checking out reviews of new hip-hop music. I like to stay on top of stuff, and know what is hot or when my favorite emcee or producer is droppin his next smasher. For this article, I want to try and review a local hip-hop album. Bear in mind, this is my first review of anything for the public to read, so beware.
The album I chose, is Emcee Jabee - The Hood is Great (The Re-Issue). Jabee is a local emcee who has made his mark in the local hip-hop scene. Known for his superb lyrical content and excellent stage presence, Jabee has been affiliated with: Resource 1214, the band Invisible Struggle, hip-hop group Little Earth. and recently Songs For Debutantes (which features Hype of New Jersey and Ninja Tune DJ and Russian native DJ Vadim).
When I opened the CD, and checked out the track list, I already knew this CD was going to be strong.Appearances by Chris Mccain, Duo, and Ob-One set my expectations high. The first few tracks did not disappoint me, but the heat is really turned up when, in track five, Stone Wall Street Blues comes into the mix. I can't identify the sample used in this song, it's from an old soul hit, but it adds a lot of emotion to the track. It has the potential to be a radio or video hit. Jabee's lyrics also shine on Jabee The Beautiful? Vocalist Ernistine on Silence, sounds great, and this song contains my favorite line on the album, "When I went to Northeast, it was more like Lean On Me..."
Never Had A Friend like Me is another track that has potential to be a party hit. I would have to say it is one of the best tracks on the album. It is not really the type of track you would drop on midnight in a large hip hop club, but it definitely would get a party hyped. I really like the way Walk On By starts, almost like an MF Doom type of track but then it drops into some heavy drum edits for the verse with a nice hook vocal sample.
This CD is a must have. It is not your ordinary bling bling & cadillac rap music. It is pure hip-hop music, with many messages. To check out more on Jabee or for info on purchasing this CD, check out: www.myspace.com/jabee