Vol. 2, Issue #18 Sept. 28th - October 11th, 2007
DVD Review: Hideout in the Sun (Retro-Seduction Cinema/Pop Cinema)
By: Wilhelm Murg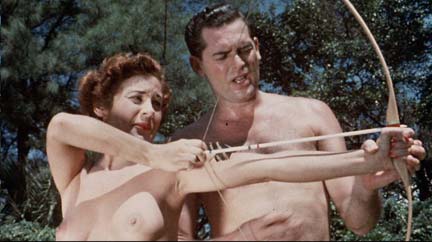 The late Doris Wishman is a towering figure in the world of exploitation cinema. She was just in her early forties when she was suddenly widowed and, as she had worked in independent film distribution, she decided to take the leap and make "Hideout in The Sun" (1960,) her first film, for $20,000. She would go on to create some of the classics of sexploitation, including the sci-fi nudist colony epic "Nude on The Moon" (1961,) "Blaze Starr Goes Nudist" (1962,) featuring the statuesque burlesque queen, the gritty "Bad Girls Go To Hell" (1965,) and the spy thrillers "Double Agent 73" and "Deadly Weapons," both from 1974 and featuring the seventy-three inch bust of Chesty Morgan.
Her movies became more disorganized and chaotic with nearly each production. "Hideout," being her first, mostly follows the rules, though you can see her odd style slowly taking shape, such as in a montage of feet walking – she was famous for having mundane objects edited into her films, and lots of feet. This being her first film, it also begins her Nudist period, which lasted from 1960 to 1964; she released eight of them before going on to produce her infamous "roughies."
The story concerns two bank-robbing brothers, Duke and Steve Martin (Greg Conrad and Earl Bauer). Their robbery is successful, but their getaway car isn't working, so they hijack Dorothy (Dolores Carlos). They soon discover all the roads out of town are blocked, so they decide to hideout at Dorothy's original destination, The Hibiscus Club, the local nudist colony. Steve pretends to be Dorothy's husband, while Duke hides in the trunk of the car, and then in their cabin. Steve goes native and participates in skinny-dipping, nude volleyball, nude tennis, and nude bird watching with Dorothy. He starts to see the brilliance of nudism, and he and Dorothy begin to fall in love – which I might add is a very feminine touch to a nudist colony film. While all of this is going on, Duke paces the hotel room and goes crazy while talking to himself and chain smoking.
Of course the whole point is the nudism. Once a decision came down from the high courts that nudism is a lifestyle, and thus pictures of people participating in the lifestyle are not of prurient interest, it opened the door for nudist films. It was one of the few legal ways to see pictures and films of naked people in the early 1960s. No genitals are shown, only butts and breast; everyone seems to be carrying a beach ball.
However, like most nudist films, this one is in Technicolor, and it looks like Bunny Yeager's color Bettie Page photos come to life with a Populuxe lounge music soundtrack - Carlos was one of Yeager's models. While the film is hardly a masterpiece, it's historic for being the starting point of one of the most influential women in America's underground cinema, and as a piece of past erotica that has lost it's heat, but still retains it's charm.