Vol. 2, Issue #7 April 27th - May 10th, 2007
DVD Review:
Gustafer Yellowgold
By: Matthew Alvin Brown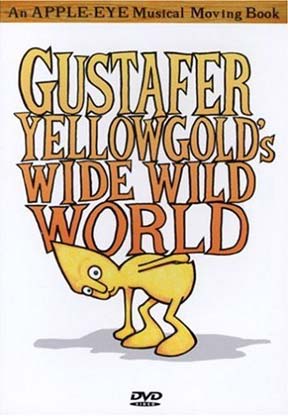 Here's the bottom line... If you love Nilsson's "The Point", the Beatles Yellow Submarine, and generally... AWESOME THINGS, then, you will really dig what singer/songwriter/illustrator Morgan Taylor has done with Gustafer Yellowgold's Wide Wild World.
If the person I have just described is you, then read on.
If it's NOT you, then REALLY read on...Next, go buy Gustafer. ...Oh, and get Nilsson's The Point while you're at it.
Total cost to you? For both? 'bout 30 bucks... For Gustafer alone? I dunno...Like 14 bucks? 15 bucks?
Shut up. You can afford it.
Anyhow, Back to Gustafer...
At times, the tunes smack of Harry Nilsson. Other times, it's Sufjan Stevens, throw in a hint of Kermit's nephew Robin, a dash of local troubadour Steven Stark, little bit-o Lips... only veRY veRY meLLOW... and completely original... The names I've just dropped serve as a hint of what to expect. The music, lyrics, and animations are by Morgan Taylor. He captures the classic aspects of what it takes to be listed among the great story-songwriters.
What I'm saying is, this is really GREAT, timeless stuff!
It's an album for kids, but not just for kids.
Gustafer is a fine way to introduce young children to sunshine-pop psychedelia... that is, only AFTER you've made damn sure they have committed every word of Sgt. Pepper's Lonely Hearts Club band to memory.
The Beatles come first... Always remember that.
Again, back to Gustafer...
This unsuspecting DVD caught my eye a couple of weeks ago, and I bought it sight unseen. It's called an Apple Eye Musical Moving Book... a CD/DVD set... So, you can listen to the album, or you can watch the album. Perfect!
Excuse me... I need to wipe up.
In this song cycle, we follow a young dude from the Sun, as he embarks on a sweet adventure far away from home.
See, Gustafer was born on the Sun. He tells ya all about it in, "I'm From the Sun".... I swear, this song is every bit as catchy as "Me And My Arrow." At this moment in my life, I think this track is my favorite on the album/movie.
Turns out, Gustafer's home, the Sun, is SUPER HOT, so Gustafer comes to Earth... y'know... to cool down.
Well, he befriends an Eel, Slim... Slim lives in a tube sock. In the song "Your Eel", we get introduced to said Eel, plus followers of the mighty Boognish will hear a very brown guitar solo. The brothers Ween would be proud. It's a thing of beauty.
What else...?
Well, Gustafer's got a dragon for a pal and a flightless, tuxedo-clad Pterodactyl... Yeah. It's wonderful. Wanna know why? I'll tell you... The music is gorgeous. Reflective. Innocent. Wistful... and once again, really gorgeous. It's one of those albums that you can't wait to share with your kids. I don't even have any kids. I'm thinking about getting a woman pregnant, just so we can listen to this with our young. It's THAT good. Any takers? No? Ok. I'll just listen to it with my dog then.
I really see no reason why you shouldn't spend 20 bucks or less to make this a part of your life. The cd/dvd set has a "Sing-Along Karaoke" feature, a bonus track : "ROCKET SHOES", and a double sided poster.
A PLEA TO PARENTS...
Please raise your children on this, and similar delights... Y'know, CLASSICS, like Mr. Rogers, Sesame Street, Really Rosie, The Point... and now, Gustafer Yellowgold's Wide Wild World...
How much cooler could the world become if kid's were singing songs like, "I Jump on Cake"?
I wanna jump on cake! It would be a super soft landing, and oh-so delicious.
Let's keep it yellow, shall we?