Music intends to move the listener in one way or another. It's life in motion, up and down, expressed by instruments in differing backgrounds and feelings. Each genre or sound creates their own sensations and we often have to jump from band to band to get the (e)motions we want.
But it doesn't always have to be that way, and a Texas based band, The Freekout, let it be known. Their new album "Please Play at Maximum Volume" is a gold mine of differing genres and impressions. From start to finish all the bases are covered. I'm reminded of Ween during the first two tracks, "Very Special Place" and "Euphoria". Then songs move from a kind of free jazz to punk and ska, sometimes in the same track. And hell, why not some funk too? Or is that motown? I'm not entirely sure. It sounds like the Cure gone happy, and then the Beach Boys. Queens of the Stone Age mixed with Goldfinger? It's impossible to use comparisons.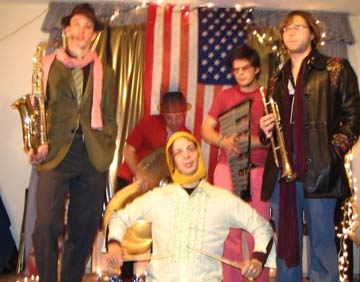 "When I started the band I was looking forward to collaborating with some of my friends who wrote songs that I loved. The result has been somewhat fractured, but so far we haven't had a specific sound in mind. I don't think that it would be very much fun to cling to one particular aesthetic or genre." Said Michael Bryant, songwriter and guitarist for the band since it was put together in 2004.
Aside from their practiced sound, The Freekout does not slump on lyrical substance. Whether the words are whimsical: "I don't get laid enough to feel good." or more serious, the effect is lasting, adhesive and positive. The Freekout approaches their music optimistically and comically, but not at all ignorant to deeper sentiments: "All day long finding shade from the gravity."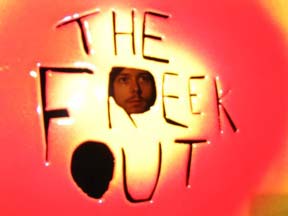 Somehow carousels and cheap wine come to my mind with this imaginative and creative album. I'm offered a very clever 13 track narrative about let downs, love and the adult experience seasoned with good wit and a natural humor.
"Tim Pallanch, who recently left the band due to love and a job transfer to Chicago, is chiefly responsible for the humorous material. He's written so many beautiful, intriguing, tongue in cheek songs. Probably over a hundred. He's an amazing talent." Said Bryant.
No matter what you like there is something for you on this album. The Freekout is a Swiss army knife of a band, giving you, for once (MTV), a talented group playing music unrestrained by a specific, cloned format. The product is something ultimately strange, innovative and refreshing. "Please Play at Maximum Volume" is an articulate and light hearted musical picnic. Press play and enjoy.

Expect two more releases soon from The Freekout including a morning album entitled "Wake Up Happy" along with another more analytical and thought invoking collection, "This City Is Killing Me Again". Visit them on the web at www.thefreekout.com.