Issue #7 April 28th - May 11th, 2006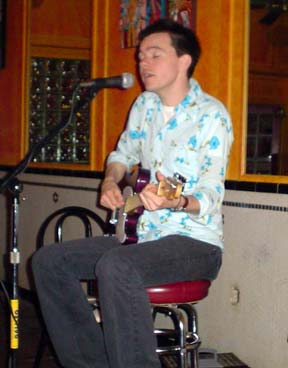 Live Music Review:
Eric Sarmiento
By: Sheridan Marquardt III
Artist: Eric Sarmiento - Guitar, Harmonica, and Vocals
Web Site: www.alchemistrecords.com
Venue: Galileo Bar and Grill
Cover: Free, Zip, Zilch, Nada
Quote of the night: "That guy up there singing is so cute and tiny... I bet you I could pick him up, put him in my purse, and take him home with me!"
When I went online and looked up the word "Troubadour" with my trusty new friend Wikipedia, It told me a troubadour was a composer and performer of songs during the middle ages of Europe. Well I guess times have changed, because in our fast paced modern world, traveling from one point on the globe to another is almost as easy as going down to the corner store and picking up a sixer. I've known and listened to Eric Sarmiento for almost 15 years, so writing a review of him, much to my surprise and dismay, is very difficult. At first, I thought it would be easy. I own all his albums: with bands, without bands, live, studio, acoustic and electric! So what do you say? I guess I should start with his earliest works, mostly beautifully written collaborations with his brother and a band called The New Tribe. Which is to be expected when songs are written with someone you spend the formidable parts of growing into adulthood with, siblings or not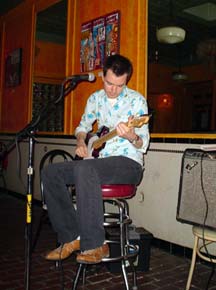 Even then most of the material they would pack into a show was completely original and well crafted. But as young men often do, Eric was being called to travel and write about his experiences. I believe he tried to fight it at first and stayed home, recorded some solo efforts and formed the bands A Suncrush For Sweethearts and the The Pistol Arrows, but for me it felt like he wanted to do more.
Eric would call New York City, Paris and a whole host of cities in the United States and Europe "home" over the next few years, before returning to his real home here in the great state of Oklahoma. He seemed to be fully charged with creative energy, and joined with his brother yet again, as well as former members of The Pistol Arrows, to form The Candles. This collaboration would release one of the quintessential pop albums of last year, in my opinion. Oh God, if music on the pop radio stations could just sound this honest and genuine, this would be a much better place to live. So what else is a true troubadour to do but pick up and live a year or so in Tokyo?
Traveling and writing seem to suit him very well, and packing a fresh, new solo recording of songs, he did just that. Moved to Japan. Maybe it's suffering like an old blues man, or maybe it's the beauty of new experiences, I don't know, but last Tuesday Eric proved yet again why I say he is a Troubadour. The new material he brought back with him from Japan is the most mature work he has done so far, and with less than a handful of people there, played with so much emotion, a pin drop could be heard. Mixing new songs and songs from his whole life's work has made him a story-teller, and he has some really good stories. Lucky for us he is remaining in our fair state most of the summer, sharing these stories with anyone who will just simply listen. I say go see him...you'll feel better when you leave!