Vol. 3, Issue #6 March 21st - April 3rd, 2008
Book Review: E.C. Segar's Popeye, Vol. 2: "Well. Blow Me Down!"
By: Wilhelm Murg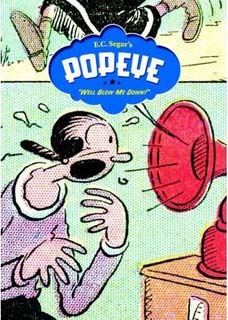 Every decade or so a complete set of E.C. Segar's original Popeye comic strips would be released and then disappear as fast as they came into print. Even if you could find a volume it was always expensive. This is the second volume of a purposed six volume set which will include all six years of dailies and Sunday strips of Popeye from the character's conception to the death of Segar in 1938. If you've never read them, be assured that these Segar Popeye strips from "Thimble Theatre" (where he originated) are some of the crown jewels of American humor. The art, of course, is pretty much the touchstone of American cartooning; each frame is a miniature masterpiece in ink.
As a cartoon character, Popeye is as iconic as Mickey Mouse, Bugs Bunny, and Superman, but perhaps even more so because he's a slob like the rest of us; he butchers American English, gets walked out on by his girl, and life often kicks him in the ass. Segar's Popeye, the original text, is far more salty than even Max Fleischer's black and white animated version - it's obvious he's using four letter words ("#@*!,") as many of the women complain about his language throughout his adventures. The rest of the cast is plain as dirt and offer no excuses for their drab existence, which was probably normal for a country coming out of an economic depression and rearming itself for the upcoming war.
There's also a political incorrectness to the stories that is absolutely refreshing, such as Popeye and Olive being stranded in the desert, where Popeye kills a vulture and feeds it to Olive, telling her it's chicken. Later Olive is kidnapped, but figures out how to strap a shotgun to her leg (seven decades before Rose McGowan in "Grindhouse") and shoots most of the kidnapping gang in the face, without killing them, before she is "rescued" by Popeye.
I was always struck at the independent minded Olive of Fleischer's cartoons compared to Seymour Kneitels's later color cartoons for Famous Studios, where the fickled Olive would leave Popeye for Bluto, who would then metaphorically rape her ("Hey, babes, how's about a kiss") and Popeye would save her, only for the whole tale to respin in the next cartoon. Segar's original Olive is even more independent and stronger than the Fleischer version and her fickleness has nothing to do with Bluto; she's just not completely sold on Popeye.
Popeye's original saga is an epic landmark in cartoon history, and just as equally funny and as entertaining today as it was when it was first released during the depression. This book is a giant: 14 x 10 inches, 3.2 pounds, and at $29.95 it's a very economical way to catch up with a legend.