Issue #1 February 3rd - February 16th, 2006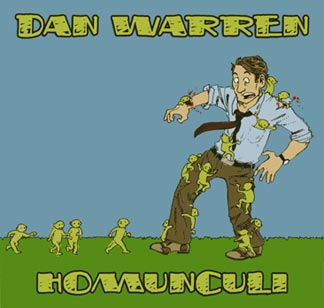 CD Review:
Dan Warren -- Homunculi
By: Adrian Fallwell
Fans of the '90s Norman-based band, Love Button, remember front man, Dan Warren's catchy melodies and thoughtful lyrics with witty delivery. Dan moved to Florida to continue his college education, and is now working on his Ph.D. in Population Biology at UC Davis. Determined to keep music a part of his life, Dan built a studio and has continued to write and record during his free time. The fruits of this labor sound better than ever with his second solo release, Homunculi. Now with keyboards and drums added to his many talents, he performs and engineers all the music himself. Half of the six song EP echos the songwriting that fans of Dan's former bands will know and love. It is a sometimes quirky, sometimes driving sound coupled with a sceintific, yet emotional, view of the world. Take for instance these lines from, "Parallel Universes":
With every single thing you do
The universe is split in two
With every single choice you make
You leave behind you in your wake
A set of places you can't see
Expanding exponentially
And all of them have different yous
With different things they get to choose
And in the space between some
Two consecutive quanta of time
There must be a universe where
Everything is working out fine, somewhere
Everything is working out fine
However, the rest of the EP reveals a new direction for Dan. The songs "So Much Better" and "Fly" show not just a softer side to Dan's lyrics, but a new musical direction as well, attaining a trance-like quality with layers of simple parts, put together as a separated whole.
The EP highlights only one of Dan's many projects. He even creates song parodies for the various forum contests of the comedy site somethingawful.com. These hilarious experiments, along with works in progress and other musical adventures can be heard either on his blog at http://mofolotopo.blogmatrix.com/ or podcasting on iTunes under The International House of Dancakes. Go to the blog if you want to buy your very own copy.