Vol. 2, Issue #22 November 21st - December 6th, 2007
CD Review: The City Lives -- American Kids (Rock Garden)
By: Becky Carman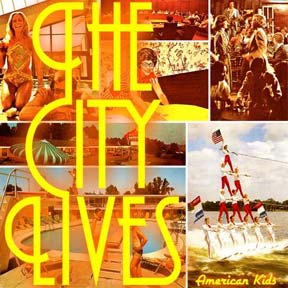 "Debut" may not be the most accurate word to describe American Kids. The album, while the first real offering from OKC's The City Lives, is years in the making. Comprised of a smattering of local band veterans (Josh McCleskey, Eric Pennell, Craig Bennett and Shaun Brown) and fronted by Chase Kerby (formerly of Chasing Paris), The City Lives' mission is clear: to win you over, whatever it takes.
Enter the deliciously-produced American Kids, a collection of 11 rock tracks with a definite pop bent – some are unabashedly catchy and harmless, others are poignant and sharp. Perhaps The City Lives are the hopeful spearheads of a resurgence of straightforward rock bands (think Jimmy Eat World), not necessarily defying genre stereotypes but accepting and then overlooking them (think The All-American Rejects).
The first track, "Bad Enough," exemplifies how Kerby's charisma as a frontman and clarity as a vocalist can bring a song from being merely good to being an ideal album opener. "Alcohol and Ambrosia," even with its ambitious falsetto interludes, is one of the best on the album. Kerby is a gifted songwriter alone, and in The City Lives, he's more than complemented by a group of equally talented musicians.
Experienced though they may be, here's hoping The City Lives are willing to bank on their youthfulness. In "Missing the Point," Kerby hovers dangerously close to sounding trite with lines like, "Everything makes sense when you're in love with alcohol," but the honesty is endearing, the delivery sincere and the end result satisfying. All in all, American Kids is a tasty pop gem.