Although we pirates are all over the metro, we keep the Blackened Grill in Norman. Living in a college town gives us perspective on moving, housing, roommates and possessions. One day you have no neighbors on three sides, the only people who can possibly be bothered by your killer Pioneer surround system is the bartender who lives across the street, and is usually over having a beer anyway. The next day there are dozens of Daddy type guys looking for a decent place for their Princesses to live. This gives you the rare chance to shape your neighborhood. Anyone that seems too uptight to accept a midnight burger and weenie bash next door must be dealt with quickly.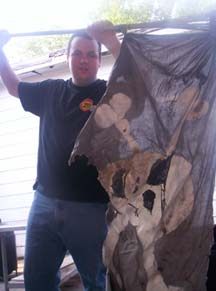 We use a Jolly Roger in the front yard, a stained spousal abuser style shirt and a megaphone. When someone seems too type A, we simply walk up, introduce ourselves and explain that we are about to practice with our Judas Priest cover band. That doesn't explain the megaphone, but it lends an "I dont want to stay for that" kind of vibe. If anyone in the party starts to sing "Breaking the Law" or "You've Got Another Thing Coming," we were worried for nothing.
Moving in Norman can be a spectator sport. In one afternoon the hot girl count will triple in your neighborhood, unfortunately so can traffic. On Mass Move-in Day, we try to find one of the crew with a yard and a view of a sorority, then we grill all afternoon. We cook, and drink, and sing and play guitar. We ogle and stare, we comment and whistle, we get drunk and flirt then we forget what was different about the one we liked the most and the one we liked the least.
We do the same when they move out, but it is less jubilant as the hot girl count goes down, but hey - you can finally get from Lindsey to Boyd in a reasonable time.
As you can probably guess we of the Blackened Grill have had to move a few times, usually on short notice. So here's a little trick to help you get done in one fell swoop. First find your new digs, then put a keg there on ice. Next return to your old crib and start calling friends.
The conversations should go something like this:
Hey man, I'm having a house warming party tonight. I got a keg, and you gotta check out the new pad.
Hell yeah, your friend will no doubt respond, what's the address?
Oh, I'm not sure why don't you meet me here at seven, I'll be picking up the last of my stuff. You can follow me over.
You have this conversation with twenty of your friends, particularly your friends with trucks. As people arrive you tell them which things they are taking in their car, and next thing you know everything is packed and on the way. Keep track of which friends you've pulled this one on, people don't often fall for it twice.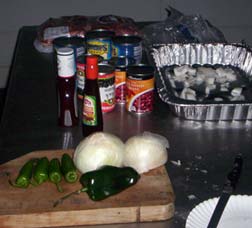 What kicks ass about this method is that kegs are cheaper and more fun than professional movers, and your friends can help you decide what should come with you and what should be thrown to the sharks.
What sucks eggs about this method is that you have to hear what your dearest mates think of your cherished possessions. You're not keeping the picture of a pitcher are you? You should pack something besides boxes in that box. Some people will never understand the box full of boxes.
And don't forget you gotta feed your friends, so with this in mind heres a crowd-pleasing recipe that's sure to help everyone get their asses in gear.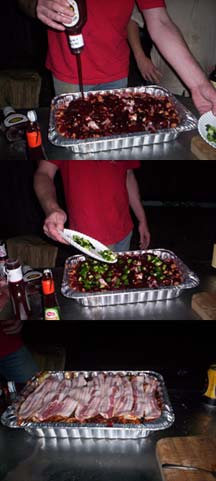 Baked Beans A.K.A Texas Style Vegetarian Chili
Heres what we use:
- 3 27oz cans of  pinto beans
- 2 15oz cans of dark red kidney beans
- 2 15oz cans of black beans
- 1lb of bacon
- 2-6 fresh jalapeos (diced)
- 1 1/2 white onions (diced)
- 1 pablano (diced)
- 1 6-8oz pork chop or country cut rib (cubed)
- 2 18oz bottles of bbq sauce
- 1 6oz bottle of chipolte sauce
- 1 12oz beer
- 2 shots of Kentucky bourbon
- 1 tsp. of salt
- 1 tsp. of chili powder
Heres what we do:
Prepare and combine all ingredients, except the bacon in a large baking pan, and mix well.  Lay the bacon across the top, covering the beans entirely.  Cook over medium to hot fire until the bacon blackens and become slightly crispy. If it seems dry before the bacon crisps pour a little beer evenly over the top.
Obviously the number of jalapenos that you use will determine the heat, if you are making a pot of beans with only two or three jalapenos you might try adding an extra poblano to enrich the flavor.
In closing wed like to reiterate our main points so that we dont get any nasty e-mail or myspace snubbing. Most importantly, if you're going to treat women as objects, don't leave your buddies hangin; throw a party. Also, it is a good idea to trick and use you friends, who admittedly would do it anyway, to cart your crap across town. And of course, pigs are vegetables.
Previous Recipe: The Chronicals of Bar-B-Q: The Fish, the Sauce, and the Pork Butt
-- Pirates Homepage --
Next Recipe: Minty Fresh Mushrooms