All of our recipes are created through the same process: go to the store, find the best deal on the best piece of meat, decide what sounds like the best flavor to bring out it's potential, purchase what we don't posses already. Then we spend the night chopping and dicing, quartering and filleting, hollowing and injecting, searing, roasting and basting. Oh, yeah, and drinking.
Of all the chores, the shopping is the most crucial. Forgotten or omitted ingredients can be disastrous. Stores can close long before a brisket has even the second coat of sauce, and if you discover you're out Vermont Johnson sauce, you'll find 7-11's selection of Bar-b-q condiments, shall we say, lacking… and oh, yeah, we've been drinking. So certainty of supplies is crucial.
Of course, this dependence upon ample sundries, and the meager purses of hard looting pirates like our selves, can lead to hour long discussions in the produce section or ethnic food section. It usually stops short of sword play… usually.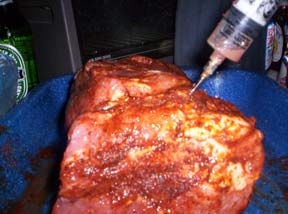 So with this in mind when Mr. Fish found salmon at $#&*-Mart for $3.98 for each whole fish, he had to buy a two for the pirates (he named them Flippy 'The Magic Tide Fighter" and Gary), but wisely took company to shop for the cooking. This meant we went to a real grocery for the produce and spices, and the real grocery store had a real good price on a 5lb. pork butt. Too good to pass up actually, so we got it also. "You can always freeze it for later," suggested one well meaning but misinformed visitor to our bar-b-q.
We don't roll like that.
No, a feast was called for, and since everything came out so perfectly, we have no choice but to give you all the savory, juicy details for the preparation and ingestion of this magnificent repast.
Apple Junkie Pork Butt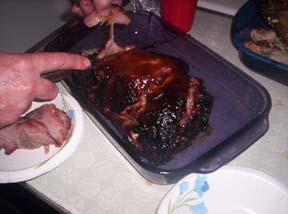 Here's what we use:
- 5lb pork butt
- 2 12oz cans of apple nectar
- 1 18oz bottle of bar-b-q sauce
- 1 tbs. cumin
- 1 tbs. chili powder
- 1 tsp. salt
- 1 tsp. black pepper
- 2 tbs. brown sugar
- 1 tsp. cayenne
Here's what we do:
Combine the cumin, salt, chili powder, black pepper, brown sugar, and cayenne to make a rub. Rub the pork very liberally. Inject one of the cans of apple nectar, until it plumps noticeably. Pour half a bottle of bar-b-q sauce over then smoke pork. When it's about halfway done, inject the other can of apple nectar. Pour the other half bottle of bar-b-q sauce over, and continue to smoke until tender.
Margarita Salmon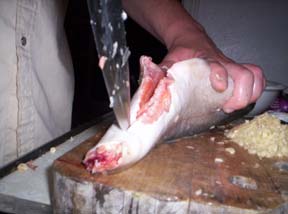 Here's what we use:
- 1 3lb side of salmon
- 1/2lb of butter
- 6 lemons (sliced)
- 1 tbs. fresh rosemary (minced)
- 1 tbs. fresh dill (minced)
- 1 pitcher of very stout margarita (neat)
- 3 cloves fresh garlic (minced)
- 1 tbs. sea salt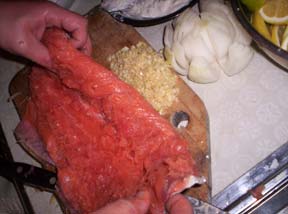 Here's what we do:
Whilst singing Jimmy Buffet, lay the salmon skin side down on a piece of foil. Rub the garlic, rosemary, and dill into the fish. Cover with butter, and place lemons on top, covering the entire surface of the salmon. Sprinkle the salt on top, and pour some of the margarita over all, between 8 and 12 oz depending on the actual weight of your fish. While smoking the fish at a low temperature, blend the margarita with ice in your blender, or serve it on the rocks (you've got some time on your hands). The fish is ready when the meat firms and it flakes easily to the touch.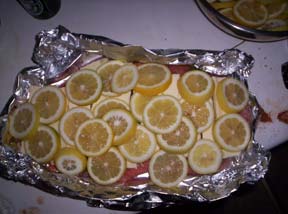 We made the dill and horseradish sauce for some fried onions and mushrooms, but it proved astounding on the smoked salmon, so we had to make a second batch. The best part of shopping as we do is that you always have too much, you have an excuse to invite some girls over, and...OH YEAH! We'll be drinking.
No feast is complete without a brilliant dipping sauce.
Dill and Horseradish sauce
Here's what we use:
- 2oz horseradish
- 6oz sour cream
- 1/2 oz fresh dill (minced)
- salt to taste
Previous Recipe: The Legend of the Shanghaied Ham
-- Pirates Homepage --
Next Recipe: Blazing Saddles and Happy Trail