The recent ice storm allowed us an opportunity to cook outside the way nature intended. As we skated across the 1-inch slab of ice that had been the patio a scant few hours ago we sang a happy song, (the rhyme of the ancient marinade), and smiled. Usually an ice storm is bad news for everyone, including pirates, but not this time. Though there may still be a burn ban in effect, one would have to be an outstanding officer of the law to cite us for grilling when our porch is covered in ice.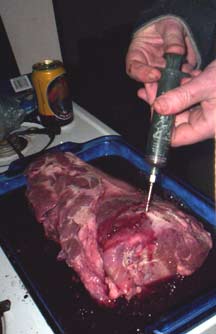 Most people think of bar-b-q as an activity for the summer, the word alone conjures up images of ice-cold beer and sweet corn. Some grill mostly in the fall, bratwursts at a tailgate party and a binocular shaped flask slung jauntily about one's neck. The truth is that bar-b-q is meant for all year and all weather. A brisket will take on a far better smoke flavor when cooked in a rainstorm, as the heavy moisture will hold the smoke lower and colder. It will also take longer giving extra time to have a malt beverage or twenty-four.
As much as we hate to admit it, a cookout isn't about the libations. It is about the kinship of cooking. Knowing deep down that the only thing that separates us from the animals is that instead of fighting to the death over a thick haunch of meat, we can work together to make that simple sustenance into a thing worth dying for.
For our money there is no better time to cook than a snowy dark night, and we had a beautiful one. So quiet and still you could hear the pop of the coals and the sizzle of the grease as it kissed the grill plates. The stars seemed so far away, and yet so sharp, as the smoke from our grill wafted upward to appease our ancient gods.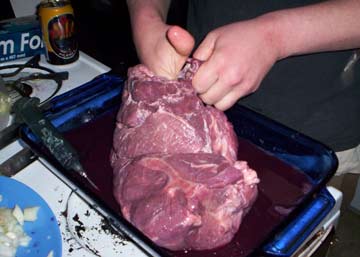 Here's what we use:
4 ½ lbs. Pork shoulder
1 lb. Fresh mozzarella cheese (crumbled)
2 whole garlic (minced)
½ medium sweet onion (minced)
2 ½ fl. Oz. Chipolte sauce
Red wine of your preference, onion salt and the store bought dry rub of your choice.
Here's what we do:
• Marinade the pork shoulder in red wine for several hours, over night if possible.
• Combine mozzarella, garlic, onion, chipolte sauce and about a tablespoon or so of onion salt.
• Use a marinade injector to "plump" the meat with some of the wine that the pork has been resting in.
• Using a large kitchen knife, hollow out the shoulder. Try to make one large cavity through the whole piece of meat (this is not the best time for a round of "shooters").
• Stuff cavity with mozzarella/ garlic mixture.
• Rub outside liberally with dry rub
To cook this we put down a double layer of aluminum foil to keep random flares from scorching the meat. Slow cook for a case or two of beers. It is a good idea to build your fire to one side of the grill, so the meat can sit in a relatively cool spot. However, if your heat source is to one side you will have to rotate the meat in all directions to insure an even amount of firmness to the body.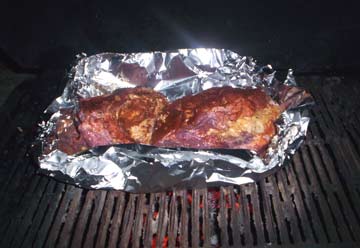 For slow smoking we will always choose wood over charcoal. While it may be easier to keep an even temperature with charcoal, the extra smoke flavor added from a wood fire is well worth the effort. When smoking a large piece of meat, it is important to keep a fairly large bed of coals with very little flame. Otherwise the outside of the meat will burn without fully cooking the center. When we do this we try to keep the lowest temperature possible to allow for the maximum smoke flavor and tenderness. This may take several hours, but to us that's more time for drinking.
We may well live in the most remarkable climate on earth. As we sit and sweat in the afternoon sun and describe our ice-skating adventures of last week, only one thing can be said without hope of contradiction; it's always good weather for grilling.
Previous Recipe: Vermont Johnson Sas
-- Pirates Homepage --
Next Recipe: The Blackened Grill Meets the Emerald Isle