Being the avid nocturnal grill masters that we are, our initial aim was to write an article for the outdoor cooking connoisseur. A forum to discuss our (and therefore the correct) views on such burning topics as marinades, what is the difference between smoking, barbecuing or grilling, briquette vs. hardwood charcoal…etc. Gripping stuff.
Then God stole all the water from the Sooner State. Huge fines can be levied against humble char broilers like us. We were left with a dilemma. How can we have any credibility as outdoor chefs if we cook our first recipe on a stove? Just when all seemed lost we struck upon the idea of dragging Ol' Sparky out to the B-B-Q prep table.
Yeah, we think using an electric hot plate to cook is a little weak, but desperate times call for desperate measures. To be fair, we usually make our chili on the grill. Keeping the temperature even is more difficult, but the distinctive smoke flavor is well worth the effort. Also, you can smoke the fresh peppers to reduce some of the spice and tartness.
Here's what we use: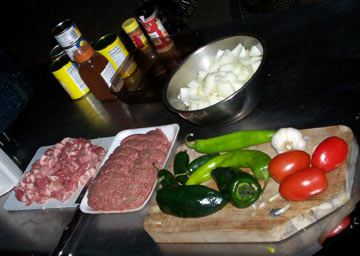 1½ lbs. ground beef
1½ lbs. pork chops (cubed)
1-15oz cans black beans (drained)
1-15oz cans kidney beans (drained)
2-4oz cans diced green chilies
1 Anaheim peppers (diced)
1 pablano peppers (diced)
2 jalapeño peppers (diced)
1-7.5oz can chipotle peppers in adabo sauce (minced)
3 medium onions (diced)
8 garlic cloves (minced)
1 tbs. onion salt
3 tbs. chili powder
244 oz Beer (to taste)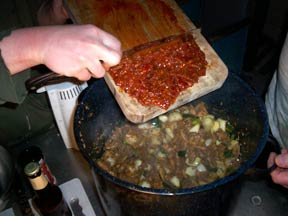 Here's what we do:
• Sear pork until light white color; add beef, garlic, onion salt, chili powder and 6oz.of beer. Brown beef. Drain grease. Drink a beer.
• Add onions and peppers and 6oz. of beer. Simmer until onions begin to caramelize. Add tomatoes and cook until tomatoes are slightly reduced. Add all other ingredients and 1 full beer. Have a small cocktail.
• Bring to boil, then reduce heat (douse fire), simmer for 2 ½ hours stirring every ten to fifteen minutes or until preferred consistency is achieved. Cooking time will vary. Drink several beers during this step.
• Garnish and serve with cheese, fresh onions, sour cream and chips or crackers (all the stuff that makes chili good). Serve with beer.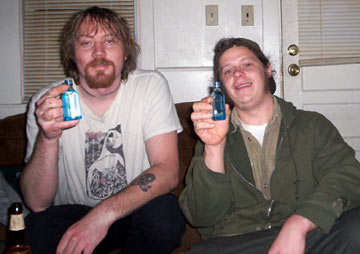 For this batch we used pork chops and a light pilsner. For an interesting variation try using venison or buffalo if you can find them, a darker beer flavor may be necessary. The most challenging thing about chili is that there are so many, usually arbitrary, preferences that each chili lover has. It is important to practice and refine your recipe to your own liking. Remember that chili powder isn't so much hot as flavorful. For spicier chili, use more jalapeño, habenaro or cayenne peppers. Green chilies add a smoother more robust taste and a little cumin will "dry" the flavor. Experiment, because there is no such thing as leftover chili.
-- Pirates Homepage --
Next Recipe: Vermont Johnson Sas