Vol. 2, Issue #12 July 6th - July 19th, 2007
To Pierce or Not to Pierce: That Is the Question
By: Brandy Dotson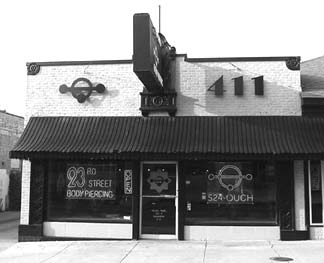 As tattoos and piercings become less and less taboo in this slowly liberating state, more and more people are expressing themselves through body art. It seems easy now to slip into the nearest shop and have your body altered for your own personal expression. Before getting a tattoo or piercing though there are a couple of things you should consider.
The most important concern you should have as you walk through the door is safety. No one wants to come into a shop expecting to solidify their individuality and creativity only to leave with hepatitis or some other infection or disease. The other most important thing to consider is quality. It's easy to think that apples are apples regardless, but when it comes to tattoos and piercings the simple truth is that they're not all the same.
Or as Jason King, owner of 23rd Street Body Piercing and Atomic Lotus Tattoo puts it, "If you're getting a deal on it, there's usually a reason,"
King first opened 23rd Street Body Piercing when he and his girlfriend at the time couldn't find a place to have their nipples pierced. After he saw the demand for piercers in Oklahoma City's open market over a decade ago, he knew he should open a shop of his own. Since both shops' openings, King has taken every measure possible to ensure the safety, satisfaction, and quality of his product by enforcing superior work practice and engineering controls like wearing gloves, keeping sanitized matter away from dirty matter and using handless sanitation equipment. He also stresses the importance of using only the highest quality barbells and needles to help avoid allergic reactions and other complications. Along with that, all of King's piercers are certified by the Association of Professional Piercers, a non-profit organization formed to educate piercers, health safety officials and the public about vital safety issues regarding the profession.
Once tattoos became legal in Oklahoma, King quickly opened Atomic Lotus Tattoos next to his busy piercing studio. Since Atomic Lotus opened its doors last June, he has seen people in all walks of life from grandmothers to daughters come in to have artwork permanently engraved on their body. According to King the stigma of tattoos is a thing of the past and in an industry where the product was once compared to such heated ethical issues as abortion and prostitution, it seems that the idealogy has come a long way.
"The idea that tattoos are wrong or immoral is just ridiculous," King said noting that piercings and tattoos predate many of the radical ideas and theologies that created the stigma in the first place by thousands of years.
Atomic Lotus features safe, custom tattoos from some of the best artists in Oklahoma. Many of the artists in the studio are happy to draw out any idea a customer may have in order to create unique designs and images that are customized to the individual. King also stresses the importance of not rushing his artists to finish a specific piece in a certain amount of time in order to get more customers through the door. This helps ensure the highest quality of work from the artist.
"If an artist says the piece is going to take him three hours, then we give him three hours," King said.
The studio is also equipped with state-of-the-art sanitation practices so customers can feel secure about their health and safety when getting body work done.
Atomic Lotus and 23rd Street Body Piercing are both located on N.W. 23rd St. and N. Hudson Ave. so after you've done some research and decided that you're ready to be pricked, check the studios out for yourself and see why they call themselves the safest studio in Oklahoma.