Vol. 3, Issue #12 July 4th - July 17th, 2008
The 51st Street Speakeasy
By: Zeke Bleak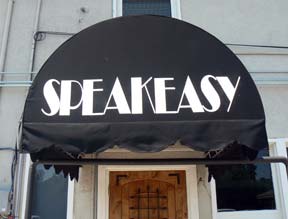 Oklahoma City has seen more than a few venues flourish over the past couple of years that cater to a more sophisticated customer. Some want atmosphere (from hip to traditional), organic brews and food, or chocolate. If you are the kind of person that likes to go back in time, the 51st Street Speakeasy will take you there.
Decked out in vintage woodwork, furniture, photographs, art, and even a cool copper ceiling, the Speakeasy fully achieves the roar of the 1920's. The multi-level split layout creates an illusion of back room depravity, without losing class. You have to explore, and find out what's through that door, around that corner, up those stairs. Where is the back room poker game with Bugsy and the boys?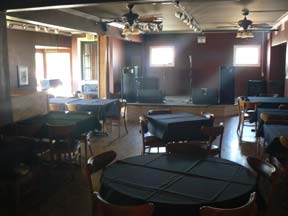 Was that Douglas Fairbanks at the bar?
Greta?
The Speakeasy is not quite as dim and forbidding as the places of yesteryear, far from it according to Co-owner Kevin Sine, "I wanted to build a place in this neighborhood where anyone would feel comfortable, a place to truly get away from the modern grind."
The building itself lent itself to the idea, and truly is a neighborhood bar - well, two bars actually. Many of the antiques and fixtures came from The Colonies Market next door. (Okay, so maybe it was perfect that The Colonies is owned by Kevin's parents, Bob and Patsy Sine, who are also co-owners in the Speakeasy. Get it? Perfect place, perfect time, perfect partners.)
"I know the people of Oklahoma City want more than 3.2 beer. My tastes change throughout the year, so we want to offer as much variety as possible," said Kevin, "we're adding 16 new taps in a couple of weeks, and are currently partnering with a local brewer to offer something new... maybe by our 1-year anniversary in October." (More on that later, we don't want to tell too many of Kevin's secrets.)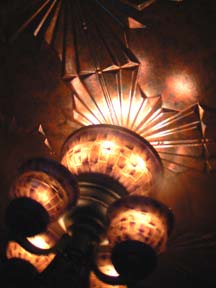 The Speakeasy offers a lot more than just a pretty place to drink good beer. Brandy does the booking for the LIVE MUSIC every Thursday, Friday and Saturday nights - bands can contact her through myspace - and for something really different in OKC check out LIVE COMEDY (MC'd by Derek Smith) every other Monday.
"I really think the comedy night is fun, and it's just not something you get enough of around town," said Kevin.
The Speakeasy is located at 1114 NW 51st Street in Oklahoma City, the phone number is 405.463.0470, and they are on myspace of course!