Issue #14 August 4th - August 17th, 2006
Saturn Grill's Joe Royer
By: Aharen Richardson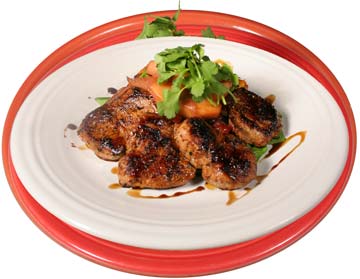 Joseph Royer, owner of Saturn Grill, infuses his passion for cooking with his creativity and lives by the philosophy that food is art. For Joseph, the food he serves is meant to give people an artistic experience full of life and joy. Joseph grew up thinking he would be an architect. He even decided to go to college to get a degree, but he soon found out that college wasn't for him. He dropped out and moved to Dallas to do what most 20 year olds do: nothing. It wasn't long until he realized that he wanted to do something more meaningful. "I knew that whatever I was going to do, art was always going to be included. I just couldn't figure out how. One day I was flipping through channels when I had an epiphany."
Joseph recounts watching a chef crafting a dish on TV. As he watched, he thought about the process of creating food and suddenly came to the awareness that food is art. "Food is an interesting art form," Joseph says. In fact, he thinks that it may be the ultimate art form because it has the capacity to stimulate more of the senses than any other medium. "Art is about stimulating the senses, provoking thought and emotion, and that is what food does," Joseph explains. "Eating is something we all have to do everyday to survive, and it can become a mundane and ordinary process, but it also can be an elevating experience when you consider food as art. It is very gratifying to think of food this way, most people don't, but it makes for a better quality of life."
Joseph seeks to take the ordinary act of eating and make it into something extraordinary. "That's the artistic statement for me, instead of eating to survive; you are reveling in the survival." That's what led him to become a chef nearly thirteen years ago, first apprenticing under Alain Buthoin at La Baguette. He worked his way up to assistant chef at La Baguette and The Coach House, eventually becoming the head chef at The Metro. When it comes to choosing his profession, Joseph Royer feels lucky. "If you are passionate about something, it just comes to you, it just happens, you pick it up more and more."
Joseph's process for creating artistic dishes is organic. He thinks about the things that he would like to eat and considers colors and textures. He writes the title down of a new recipe and sketches it out before going into the kitchen and gathering the ingredients. "I do it from scratch and work from my passion and creativity, that's where the enjoyment comes from."
Infusing art and food is what Saturn Grill is all about. The moment you walk into the restaurant you get a sense of uniqueness. The dining area is divided into two distinct halves. The idea behind it is that no matter which side you sit on you can be comfortable and you have something interesting to look at. The two halves, like the food, are open to artistic interpretation and combine fiery reds with cool blues drawing on the planetary theme of the restaurant's name.
Saturn Grill's menu is filled with tempting sandwich, salad, and pizza choices, but it is the daily specials that really make it extraordinary. On Tuesday's you can order the Thai barbecue salmon served over coconut rice and shredded red cabbage with a sesame salad and a mango-tomato relish, or on Fridays you might choose the orange-chipotle glazed pork tenderloin over crispy cheese polenta with an apple-cranberry compote, all for under 9 dollars. Joseph says that these are the same dishes he would have served at the Metro for more than twice the price. The goal at Saturn Grill is to make good food accessible to more people. "This quality of food shouldn't be an elitist thing. We want to make good food a way of life."
You can sample Joseph Royer's daily specials during dinner or try the regular menu Monday through Saturday from 10:30 to 9. The Saturn Grill is located in the Nichols Hill's plaza at 6432 Avondale Drive. The number is 843-7114.