Issue #13 July 21st - August 3rd, 2006
Russian Invented, Oklahoma Perfected
By: Zeke Bleak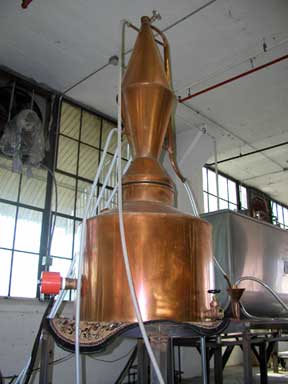 When Marc Spain, a former computer analyst, was visiting his wife's family in Russia, he probably had no idea that he would make Oklahoma history by co-founding our state's first (legal) distillery. "Old Russia Distillery came about because of poor quality, Russian state-provided vodka. My father-in-law, Simyon Metore, couldn't stand the stuff, so he came up with his own recipe. Our vodka is an adaptation of that process."
The "adaptation" combines old-world recipes with new-age technology, and it is a successful one. Metore's Vodka has already become known for premium quality, ranking with (or even outclassing) the well known imported and national brands. "Our unique filtering process is the key," Marc says, "we take it through at least a 10 step filtration process, which removes nearly all the compounds remaining in the ethanol that cause bad taste and hangovers." Marc has a background in microbiology, botany, and chemistry - all of which help him develop his recipes. Metore's Vodka already comes in Cherry and Orange, with Lemon and Lime on the way this August. There is also a Signature Series (100 proof) and the Russian Heritage (80 proof). "We are ALWAYS experimenting with flavor, there are so many possibilities."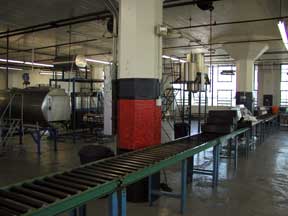 Old-Russia Distillery is located in the Fred Jones Business Development Center (downtown Oklahoma City). Fred Jones BDC is becoming very well known, not just as a historical landmark where they used to make Model-T's, but as a thriving center of community development. "Fred Jones has been great. The facility is very adaptable to where we are going." Fred Jones provides start-up small manufacturing companies an incredible wealth of services to help them avoid the pitfalls that can easily lead to failure.
Metore's Vodka is currently available at finer restaurants and liquor stores - in Oklahoma only. The company is working hard to take the brand further, and "give the world the best vodka possible. We are proud of our heritage, Russian and Oklahoman, and want to represent both."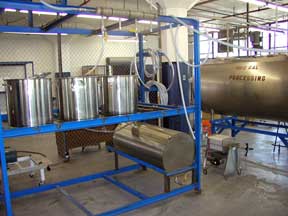 Old Russia has a number of obstacles in their quest to "give the world" premium Oklahoma made vodka. Along with extremely high Oklahoma state taxes and mountains of paperwork, the company has to deal with every state's regulations - one by one. "It can be confusing, and frustrating," Marc said, "but in the end, people want a superior product. We make a superior product."
So, next time you are in the mood for vodka, support Oklahoma industry and give Metore's a try. Remember - drink in moderation, never while driving, and if you are under 21 please forget you read this.
If you would like to know more about Old Russia Distillery, Metore's Premium Vodka, or Fred Jones Small Business Development Center, visit www.old-russia.com or www.fjbdc.com.