Vol. 2, Issue #17 September 14th - September 27th, 2007
Bricktown Store Features Local Merchandise
By: Nathan Winfrey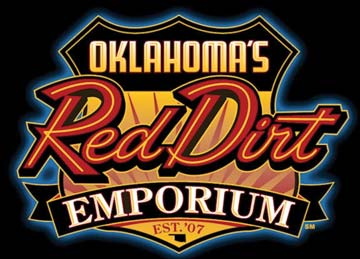 Interested in CDs from local musicians? Prints from local artists? Books written by local authors? Authentic Flaming Lips merchandise? How about cool stuff made by Oklahomans all over the state, like unique dog treats from Edmond, candles from Broken Arrow, cookies from Tulsa or raspberry sauce from Stillwater? Then you might want to drop by the Red Dirt Emporium the next time you're in Bricktown.
Chad Huntington spent eight years listening to tourists riding the water taxi (of which he is also the general manager) lament the lack of authentic Oklahoma merchandise in the area. So he decided to open the eclectic retail store in response, right on the canal, and he designed it to carry the exact things he knew people wanted.
It's impossible to not find something to tempt your internal spendthrift when you browse his store, no matter how well you think you've buried that characteristic. What makes it easy on the pocketbook is that his prices are reasonable and the treasures he's offering are well worth the money. There's no cooler thing for a Lips fan than to buy a Flaming Lips Alley sign on Flaming Lips Alley, especially since they aren't available anywhere else except the Internet; or for a sports fan to pick up a Sooner or Cowboy-themed Monopoly board; or for a lover of great photography to purchase a sample of Samantha Lamb's work, which is on display, as well as for sale.
Samantha's work artistically depicts things like hay bales and barefoot women in sundresses pinning clean laundry to the line. Chad tries to shy away from Oklahoma stereotypes in his merchandise, but he doesn't want to ignore the fact that much of Oklahoma heritage is rural. Samantha's photography is sophisticated rather than exploitive, and portrays the imagery we all grew up with in a graceful, elegant way.
While the shelves may soon be stocked with records by local bands like Kunek and Colourmusic, Chad's goal isn't to compete with record stores. If anything, he wants to direct customers to them, as long as more people are listening to Oklahoma music.
"We're just thrilled to have the tie to the Lips and be able to sell their merchandise that isn't available anywhere else, locally," he said.
Red Dirt Emporium may be located in Oklahoma's most touristy area, but it's intended more for those of us who wouldn't just buy a jar of Daddy Hinkle's Marinades as a souvenir, but for dinner, and for whom a walk down the canal isn't a part of a vacation, but a normal Friday night. In other words, it's not a tourist trap—it's just a cool little store meant for us that some tourists might happen upon.
It's only been open for a couple of weeks, and the sign out front isn't even up yet, but the Red Dirt Emporium is already generating a lot of business.
"That shows that people are really interested and that we've hopefully got a really bright future," Chad said.
While the rest of the state pushes the Centennial, Chad urges people to look beyond it.
"While we're really, really excited about what the Centennial means, we're looking beyond the Centennial in that just being 100 years old is not what makes Oklahoma special," Chad. If you're wondering what Chad thinks makes Oklahoma special, just take a look around his store and it should be pretty clear, and you'll probably agree with him.