Issue #12 July 7th - July 20th, 2006
PrimaCafe
Artisan Roasters
By: Aharen Richardson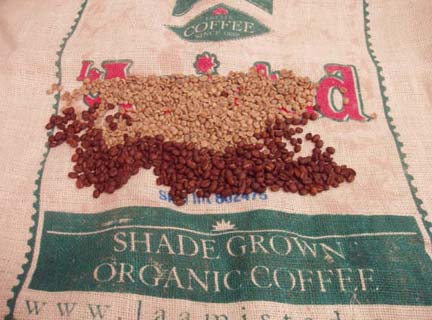 PrimaCafe provides artisan roasted coffee beans to "true coffee thinkers." Based in Oklahoma City and owned by Gary Hargrave and Lee Morrison, PrimaCafe started as a simple investment in Oregon Chai and has become a transcontinental company, buying organically grown coffee beans from around the world and bringing them here to be artistically roasted and blended.
Like most things besides love and war, all's not fair in the coffee industry. The majority of the coffee consumed by Americans comes from international corporate farms that treat their growers and farmers much the same way the US treats their own migrant farm workers: by paying them less than a living wage and making a huge profit off their blood and tears.
However, all coffee is not the same, and there are companies today that encourage fair and equitable trade with many of the small independent farms in countries like Kenya and Costa Rica. This means that the farmers get to keep a fair percentage of the income that is made from their labor. This allows the independent farmers to continue creating high-quality coffee beans that are grown to specific industry standards.
Prima Cafe selects coffee beans from these same small independent farms from around the world, and in turn, they roast the beans and sell them to independent coffee houses here in the US.
The beans are shipped to their Oklahoma City warehouse where they are blended and roasted in a large drum roaster to particular colors and temperatures. In a year they import thousands of bags of certified organic coffee beans, roast and blend them into unique combinations, and then provide them to coffee houses like the Red Cup in Oklahoma City, The Bean and Berry in Shawnee, and Café Plaid in Norman. "We love the independent coffee houses, and we think Oklahoma is so lucky to be rich with them," Gary Hargrave says. The newest addition of Oklahoma independently owned coffee houses serving PrimaCafe certified organic fair trade coffee is Cowgirl Coffee in Edmond.
I asked Gary and Lee why they chose organic fair trade coffee. "We are 100% pro small local business, and we quickly learned that the coffee industry is dominated by corporations—corporate farms—that run their businesses in ways we don't believe in. The coffee industry took a nose dive five years ago and artisan farmers were abandoning their farms, so we decided to do what we could to help them continue their art." The art they are talking about is the craft and culture of the independent farmer's specific way of growing life. A way of life that is lost forever when they abandon their fields and try to immigrate over to the United States, leaving behind generations of secondary family members who are no longer able to work the family farm. What's more, the abandoned farm land is absorbed by the corporations and a cultural community is lost forever.
"By participating in fair trade we are supporting responsible agriculture methods," Lee says. PrimaCafe's coffees bear the certified fair trade symbol from TransFair USA, a nonprofit organization that certifies companies that follow fair trade guidelines. They also sell through the Oklahoma Food Cooperative, a grassroots network uniting Oklahomans interested in buying fresh, locally grown food at a fair price.
"Coffee growing is analogous to wine production; like grapes, if you lose the top quality crop, the whole industry suffers. Coffee is also an art and an acquired taste, like a fine scotch or a cabernet sauvignon, full of complex flavors." Gary and Lee spend their time finding the nuances and undertones of specific beans and then roast them in order to enhance their flavor profiles. "For example, beans from Ethiopia are fruity and berry like; whereas, beans from Sumatra are earthy and rich with a lot of depth; when you blend the two together, you get an amazing coffee." Lee explains. PrimaCafe is constantly looking for new coffees to create new blends. Their most popular blend right now is Morningside Breakfast Blend, an American roast which can be described as nutty and toasty, with a natural sweetness. American roasted coffee generally looks light and is roasted at a lower temperature when compared to a Spanish roast which roasts a little longer and at a much higher temperature and comes out with a darker color and a flavor profile that is smoky and intensely flavored but not complex. "Coffee should not be overly complex," Lee says. "Coffee roasting is really an art, like painting, if you put too many colors on the canvas, it becomes a mess." "Roasters today talk a lot about balance," Lee continues, "but we go for what we like."
PrimaCafe is located at 45 N.E. 51st Street in Oklahoma City and the number is 405-525-8391. A list of coffee houses serving PrimaCafe coffee can be found on their website at www.primacafe.com.
For more information on Transfair USA, you can find them on the web at www.transfairusa.org. For more information on Oklahoma Food Cooperative, visit www.oklahomafood.coop.