Vol. 2, Issue #11 June 22nd - June 28th, 2007
New Dog Rescue Opens in Central Oklahoma
By: Shelley Branum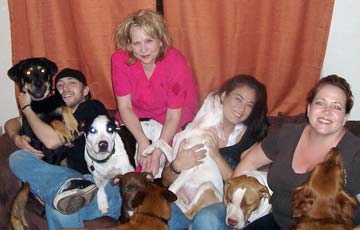 Oklahoma has new hope in the effort to make our state a "No-Kill" haven for unwanted and abandoned dogs. Must Love Dogs Rescue, a non-profit organization, is well on their way to making this dream a reality. The rescue is located in Luther, Oklahoma with more than an acre of beautiful landscape devoted to the happiness of these pups, with plans for an on-site veterinary clinic in the very near future.
The clinic will be only for dogs at the rescue and will offer internship opportunities to veterinary students. Founders Becky Kolar and Heather McDaniel have high hopes for the future of the clinic and encourage students to come use the skills they have learned in a practical, real-life setting.
Becky and Heather believe their dog rescue is unique because theirs is the only one in the state to include a maternity ward for pregnant strays. Not only will they take in the mom-to-be, they will birth the puppies and nurture them until they are ready for adoption.
According to an employee of the City of Edmond's Animal Welfare Department, pregnant females are turned away from their facility unless their pregnancy is early enough to be terminated. Worse still, if a dog finds its way to the shelter with a pregnancy too far along to terminate, she (and consequently her pups) will be euthanized immediately. This is something Must Love Dogs Rescue hopes to see an end to.
To encourage the "No-Kill" philosophy of the rescue, there will never be a limit on how long a dog is welcome at the facility—each dog will be cared for until they are adopted. Also, no dog will be discriminated against because of its breed. Must Love Dogs Rescue will treat so-called "bully breeds," like pit bulls, the same as any other dog.
The organization promotes a "no questions asked" policy for acceptance of dogs at the rescue. Dog drop-offs will be handled professionally and objectively.
"The important thing is that these dogs be at a place where they will be loved and cared for unconditionally instead of ignored, neglected, or even abused. We don't care how or why they came to us; we just care," said Becky.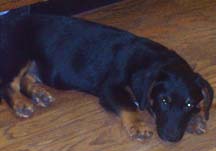 The facility includes a special area set aside for dogs with aggressive tendencies. Special attention will be given to their rehabilitation and training. Although they will be available for adoption, the requirements will be much more stringent for those who wish to take in an aggressive dog. Applicants will be thoroughly screened to make sure that they will be a good fit. Follow-up visits by the staff to the adoptive home will take place once per month after the adoption. This will ensure the happiness of not only the dog, but of the owners as well.
Aggressive dogs that are unable to be rehabilitated will be allowed to live out their lives at the rescue.
"Every dog, no matter what breed or background, has the right to have a safe and loving environment in which to thrive," said Heather.
Must Love Dogs Rescue has extensive pre-adoption standards, which include spaying, neutering and catching dogs up on their shots. All of these services are included in the $75 adoption fee. The organization will also provide microchips for a small fee. The chips are injected just under the skin and make it easier to identify the dog if it is lost or stolen. Such identifiers would make finding a lost pet after a natural disaster like the May 3rd tornadoes or Hurricane Katrina much less painful and time consuming for the owner.
So, you have decided that you want to adopt a dog, but you are not sure which breed is best suited for your family? Not to worry. The employees at Must Love Dogs Rescue will sit down with you to determine how your needs and living environment will work with any dog. They view this as a "matchmaking" service to help potential owners find their perfect pet.
Must Love Dogs will host a charity garage sale June 22 and 23 from 8 a.m. to 2 p.m. at 708 Teal Place in Edmond to raise money for the rescue. Donations will also be accepted and information packets will be available for those who are interested. While monetary donations are always welcome, the facility also needs supplies and materials to build living quarters for the animals.
Many different sponsorship and membership opportunities within the organization are available for companies and individuals. As with any other non-profit group, all donations—monetary or otherwise—are fully tax-deductible. For more information about the rescue and how you can help, visit www.mustlovedogsrescue.com.

Shelley Branum is the owner of 6th Degree, which provides Business Consulting services for Must Love Dogs Rescue, Inc.