Issue #13 July 21st - August 3rd, 2006
Music's Inner State
By: Robert Cole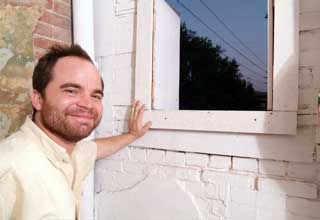 Casey Friedman, independent producer of Oklahoma's Inner State Recording Studio, opened his doors in 2002 and hasn't looked back. His dedication to the craft has been the same all his life.
"I studied violin and drums as a child. It's something I've always done...It's who I am."
Casey's history comes from a year at the Berklee College of Music, along with various internships, including one at the Bristol Studio in L.A. Friedman's humble love for music was apparent in our phone interview.
"Like any artist I do it because I have to do it; it's a mode of motivation."
For the past several years, Casey has pursued his career in music at Inner State. Ever since, articles featuring Inner State produced artists have popped up all over Oklahoma. Such artists include Loose Shoes, The Disposables and Hopes the Carrot, along with Casey's own projects, The Reverb Brothers and GodTV.
The Reverb Brothers began recording 'Adult Entertainment' in July of 2003, an album which has received belated but worthy acclaim. Casey Friedman played bass for the group for some time before the record was released.
The Reverb Brothers' album resonates a lurking guitar aura and a raw, raspy lead voice carries the seven song rock concussion through. The band sparks interest with rifts and lines reminiscent of The Black Keys accompanied by some traces of a modest-mouse-like lyrical intent. In effect, The Reverb Brothers are not boring, overdone, or cliche. At some points, singer Basile Kolliopoulos spills out something that sounds similar to a jam session by Jim Morisson during a drug-induced midlife crisis. You can't help but love it.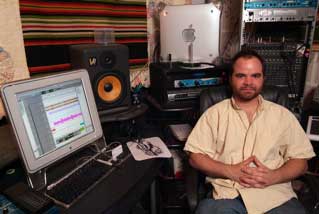 Friedman's other project, GodTV, released Surfing the Remote Controls in 2004. The CD includes a collection of songs that validate Friedman's flexibility as a musician and producer.
"I think dexterity is important for a long term career. You have to be articulate to get your stuff out there."
GodTV is made up of a talented ensemble that tends toward a southern twang, but it is accented by eclectic-phonetic punctuations, making it difficult to place the band's influences. This ten track trip is played in an orchestrated precision that would make any philharmonic proud.
"With GodTV, I'm trying to show different emotions." Friedman said about his project, "There is a freedom...a structure, but no lyrics."
Casey hopes to promote and distribute more records in the future. He admits that he is not as interested in making music as he is in promoting other artists.
"I want to keep making records. I'd like to meet some individuals who have a passion for music." Friedman said in a non-chalant way, "Music is important to the well-being of many people."
Located at 112 S. Western Ave, Inner State Recording Studio does give tours of the facility and there is plenty there to see. Call 405.239.2730 for more information or visit them on the web at InnerStateStudio.com.