Vol. 2, Issue #15 August 17th - August 30th, 2007
Fashion Forward: Earth Friendly Threads
By: Brandy Ray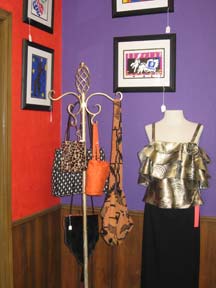 It's hot outside and as glaciers that have existed for thousands of years collapse into a warming ocean, there's no denying the facts, it's getting even hotter. If ever there was a time to listen to your third grade teacher rave on and on about the benefits of the three R's (reduce, reuse, recycle), it's now. Luckily, while the Bush administration and other powers that be lag behind in the effort to stop global warming, many concerned individuals and industries in the metro are taking the initiative into their own hands.
Oklahoma City's fashion industry is one area as of late to champion the earth conscious cause thanks to Aire Shabazz and her group of forward thinking friends. Shabazz, owner of Abracadabra on N.W. 50th and May, will be hosting a "Going Green" fashion show from 4-6 p.m. on September 1st at the Colonies Market located at 1120 N.W. 51st St.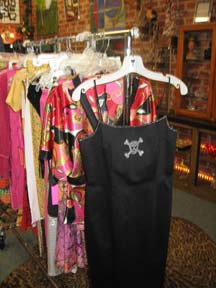 The show will feature an array of sustainable fashions from Aire's line of clothing, Shabazz Apparel, to corsets courtesy of Nicole Moan, and even vintage furniture customized and reupholstered by Re-Creations. The fashions featured at the show will be made from sustainable and/or recycled fabrics, clays and other vintage materials. None of the artists and fashion gurus presenting believe in using animal furs in any of their creations.
"We're just concerned about the environment," Shabazz said. "We want to let everyone know that we are going to recycle fabric scraps and use vintage materials. We've got to be aware that we have to protect [the environment]."
A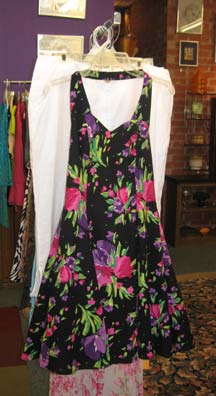 ccording to Shabazz, while people often don't consider how the clothes they wear affect the environment, there are many things the fashion industry can do to help protect mother-nature while keeping its inhabitants smooth and stylin'. Overproduction of materials, the use of animal furs and the existence of under-payed sweatshop workers across the world are some of the examples Shabazz gives regarding the fashion industries downfalls.
"Our ultimate goal is to just stick with natural fibers so they will deteriorate back into the environment. We've really figured out how to make the styles that people like and use fabrics that are natural and on top of that, we are going to recycle everything we don't use and put it back where it belongs," Shabazz said.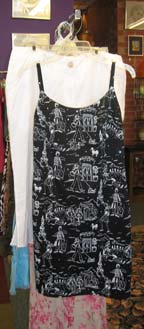 Guest designer, Nicole Moan, renowned throughout the metro and across the globe for her provocative ceramic corsets, is also excited to be taking part in this show.
"Most of my artwork and my stuff is recycled. My fabric is all found or given to me and the only thing I really buy is ribbon," Moan said.
Moan also recycles her clay when making corsets and adds various things to the mixture in order to make the clay itself more sustainable.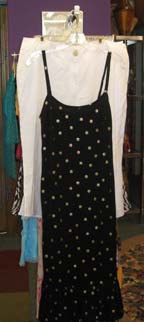 According to her, one of the biggest problems with the fashion industry is that it's constantly changing so every season clothes are tossed into the garbage in lieu of something more trendy and hip.
Other sponsors and participants at the show will include Tornado Alley Roller Girl's Moose Ondaluce as the show's announcer, artwork by Nicole Moan's parents, Deborah and Albert Riddle, and Shabazz's husband, Tariq, the Velvet Monkey Salon, The Rink, NONzine and of course, The Colonies Market.
This will be the second annual fashion show that Shabazz has hosted at the Colonies Market and she hopes that every year she will be able to bring it back.
To find out more about the show or about any of the artists participating you may visit Shabazz's shop Abracadabra on N.W. 50th and May…you're sure to find some super cool painting, artifact, collectible or apparel, and hey, if you don't, I bet she can make something for you!