Issue #11 June 23rd - July 6th, 2006
Charlie's Records
A Well Kept Secret
By: Aharen Richardson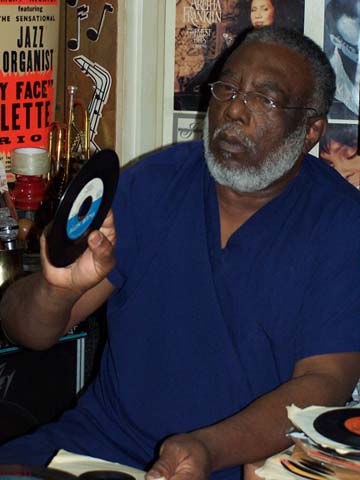 Charlie's record store is tucked away in the heart of northwest Oklahoma City at 5114 N. Classen. Sharing space with The Hi-Lo and The Side Car Lounge, Charlie's is part of the historic Donnay building and is located just downstairs from what used to be the largest brothel in OKC in the 40's and 50's. The area continues to be a perfect place for lost souls to find a little love, and Charlie's is no exception. Run by Charlie himself, the record store boasts a killer collection of Jazz, R&B, and Blues. Charlie's opened in 1989 with a collection of over 5,000 records during a time when people where dumping their vinyl in favor of compact disks. Charlie explains that although "some people aren't facilitated for records, we can repair their old turntables, or we can help them find new ones."
When you walk in the door at Charlie's, you will be amazed by the sheer amount of stuff crammed into the tiny space. Rows of records are surrounded by Stephen King books, eight tracks, old-style cameras, seashells, African and Native American masks, and turn tables. "I like stuff that catches your eye," Charlie laughs. What caught my eye were the original posters from shows like Marvin Gaye (with special guest Ray Charles at the Apollo in October of 1979) and the Ike and Tina Revue in Michigan.
When asked how long he's had a love of music, Charlie laughs: "since I fell out of my mamma's butt, pardon the expression." Charlie grew up on a farm in Alabama in a family full of music lovers and was the oldest of four children. "We were only allowed to listen to music one day a week. We'd listen to my mother's old 78's on the victrola. It was the Deep South," he remembers. "It was never a hard time… always a wonderful time, you know? On a farm there is always something to do."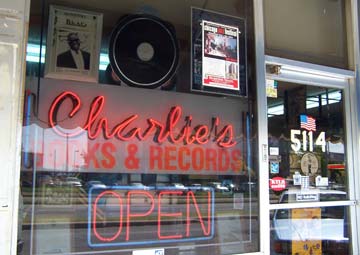 Charlie was born in Tallahassee, Alabama and came to Oklahoma on assignment for the air force in 1977. He retired from the air force in 1983 and decided to follow his life-long dream of record store ownership. That's when he found the Donnay building. "This building has a lot of secret agendas," Charlie says. "There's over three thousand square feet of storage in the basement, full of dead birds and spiders." The space Charlie's occupies was once an office and a barbershop. A wooden barber pole still stands in the middle of the store. There is also a tunnel that reportedly leads to Edna's across the street, a long time friend of his. Charlie explains that at the time he opened, The Patio Café was still "jumpin'" and Otis the tailor had a shop next door. "It was the kind of place you'd come to, have breakfast, and order tailor made shirts," he said.
Charlie has a lot of respect for Oklahoma City. "It's a well kept secret," he explains. "An easy place to raise a family. The working class stays in line because of the wrath of God and politicians. The only thing about Oklahoma City is that the town is still segregated. Only thing we know about integration is urban renewal which means 'Move over there!'"
"It's still the wild-wild-west; it's dusty rude and crude, but Oklahoma has the proper attitude. If you're not happy, get involved and make things better. Make a garden. There are a lot of simple things people can do to be better," Charlie says.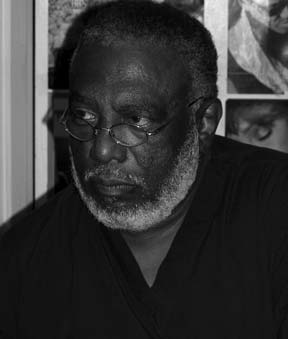 Charlie has a feel for what's real and a deep love for the sounds of the south. He enjoys the sweet sounds of Southern Soul, which he describes as "words put to music, lyrics that give you awareness, give you a little faith in yourself and in others. It's healthy for you, not degrading… profanity isn't necessary."
As for the future of vinyl, Charlie seems positive. He recently sold a Marvin Gay record for 1000 dollars on e-bay. "I walked away from technology, but now here I am," Charlie laughs. He recently got high-speed Internet access and plans to put Charlie's online.
"Make it real for yourself," Charlie says. "Find balance in your life, away from the craziness that is going on in the world today. We can all circumvent the shit if we find balance. Music is what does it for me. I praise the music; it is my recluse, to keep my sanity. And if it is music for you, too, then I can help you with that."
You can stop by Charlie's at 5114 N. Classen, Oklahoma City, Oklahoma M-F from 12-7, or Sat. 10-7. Don't be discouraged by the door, though, it's magnetized to keep the wind from blowing it open, so you have to push.