Vol. 2, Issue #6 April 13th - April 26th, 2007
BrewHaHa in Bricktown
By: Brandy Dotson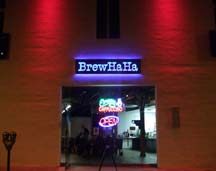 Attention all coffee lovers, entertainment gurus and gamers, the metro's got a new hot spot that you should definitely check out. With a movie screen, games, X-BOX, Wi-Fi, live music, and amazingly yummy coffee and treats Café Brew HaHa has a little something for everyone and because it's located at 222 East Main it might be the best excuse to visit Bricktown ever.
Owners Michael Brewster and Pip Hutton and manager Kristi Hutton are excited about their new venture and it's location though.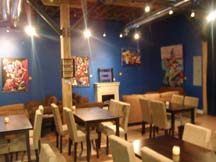 According to Kristi, "Bricktown is a breath of fresh air for corporate downtowners." She also pointed out that the coffee shop is one of the only places in Bricktown that teenagers can actually enjoy.
The café features a large variety of coffee drinks made from only the finest ingredients.
"Our most important product is our espresso bean," said Kristi.  "The beans are produced by a company called Darcellos, which is a family from El Salvador who until recently, was not allowed to export their products.  Fortunately for us, they are now able to freely trade with the U.S.  We are the only coffee shop that carries these beans and are very proud to serve them. We offer pastries, donuts and other breakfast items from Brown's bakery and desserts from Bread of Life.  We also serve sandwiches at lunchtime."
Along with all of these great goodies, Brew HaHa is also using delectable Ghirardelli chocolates in their mocha drinks. Try the Ghirardelli White Chocolate Mocha with soy. It's simply to die for, but be careful, you might get addicted real quick! If you're not in the mood for coffee, like that could ever happen, try the Buzzwater. What is Buzzwater, you ask? It's premium spring water infused with more caffeine than any soda you can find. Weird, right?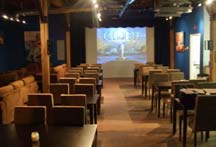 So, if you love coffee, water or hot tea, good company, baked goodies and entertainment, Brew HaHa is right up your alley. And don't forget Brew HaHa's weekly calendar is well rounded too, starting with open mic nights on Mondays, trivia on Tuesdays, movies on Wednesdays and ending with XBOX on Fridays and acoustic bands on Saturdays.
Managers describe the eclectic appeal as "A funky yet cozy alternative to the mainstream coffee house, that cares about appealing to all the needs of its customers."
Sadly the café is closed on Sundays, but hey, I guess everyone has to sleep sometime. They also feature Happy Hour from 4-6 p.m. on weekdays and on April 28th the café will be holding a blowout Halo-Slayer tournament. So, if you want to game, read, rock, or roll, do it with friends at Café Brew HaHa.