Issue #16 Sept. 1st - Sept. 14th, 2006
Artistic License Design Group
By: Lauren Zuniga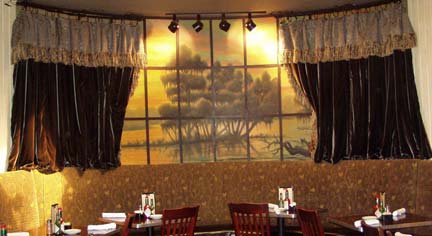 Her hands are covered with paint, as colorful as the ideas swirling in her head. Tara Feuerborn is hunched over, carefully adding dots to the Frida Kahlo Christmas ornament she is painting. "Even though it's summer, people will be thinking about Christmas soon" she notes, and begins hanging the stacks of ornaments on the wall of the Blue Moon Gallery Gift Shop. It is this kind of thinking that has allowed Tara, and her husband Randy to be working artists in a town like Oklahoma City for decades. You may have seen their work while munching on enchiladas at Cocina De Minos or chowing on po'boys at Pearls. In fact, chances are good that if you see a decorative mural anywhere in the metro area, it was done by Tara and Randy Feuerborn, and the crew of Artistic License Design Group (ALDG). Their other projects include: Boulevard Steakhouse and Café 501, Monterey Jacks, Classen Grill, Bohemian Spirit , and the Paseo Arts District mural that was featured on Is this a Great State or What?.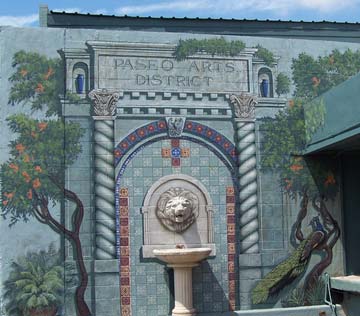 Tara started ALDG in 1988, so she could stay home with her children, and started by painting decorative furniture and wearable art like cowboy boots and earrings. Randy has been painting and doing commercial murals since the 70s, including Mother's Rock Shop on 23rd Street, which some of the old timers might remember. When they met in 1996, it was only natural that as their love merged so should their business. Soon they met Amanda Joy and had a crew that was able to take on big jobs. "It's always been our vision to create more opportunities for young artists and to help create a more thriving art culture in Oklahoma." Many talented young artists have worked with ALDG including: Randy's sons Cody and Blake, Eric Sunderman, Liz Mercer and Sharon McCoy, which is what inspired the extension into The Blue Moon Multimedia Venue. "We had so many young people coming to us with amazing portfolios, and knew so many talented musicians and artists of all mediums, that it made sense to have a place to bring them all together."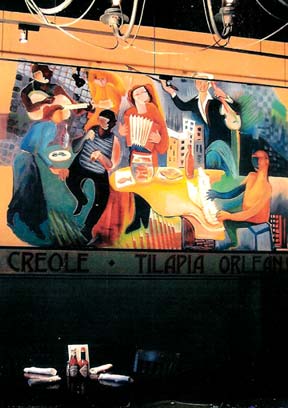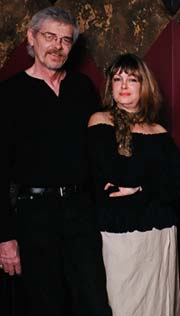 After moving from their studio on 31st, across from the Red Cup, ALDG now occupies the bottom floor of their space on Paseo, while The Blue Moon occupies the upstairs. Recently, The Blue Moon Gift Shop has been added to the bottom floor, to showcase the products of local artists in a retail setting. "Originally, the Group in Artistic License Design Group was intended to be a group of skilled artisans such as painters, tile setters, as well as steel, glass and fabric artists, kind of a one stop shop for all your design needs. We're working toward that." ALDG currently offers decorative painting, faux finishes, and hand painted/ illustrated signs. "Our motto is 'Your vision makes it possible, our talent makes it happen,' for some, art is just about expressing one's self, but to pay the bills it has to also be about helping others express themselves." In fact Tara admits that the biggest challenge they face as artists in Oklahoma is just the business and marketing part of the job. "Sometimes it's hard to do all the left brain stuff, when all you want to do is make art." Most of their clients come from referrals, and have continued to come back because of their high quality work. No job is too small, or too big, they've done everything from painting 250 ornaments for an 18 foot Christmas tree, to Sistine Chapel replicas. And even though they'd rather not paint another grape and ivy kitchen, things like that help finance the vision they have for the art scene in Oklahoma City.
After the interview, they go about planning the upcoming Rootz N Blues night at the Blue Moon and gleefully throw out the ideas they have for a Mardi Gras parade on Paseo next year. "Oklahoma's on the verge of something great and we're lucky to be a part of it."
Contact ALDG at 405.528.9999 or bluemoononpaseo.com