Issue #14 August 4th - August 17th, 2006
Art of Yoga on Paseo
By: Amanda Joy
Photos By: Paul Mays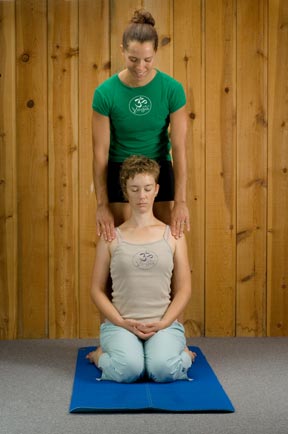 When I think about the Historic Paseo Arts District of OKC, music, art and food spring to mind.  I've grown up on this street and have enjoyed its relaxed evolution, and I've taken comfort in its odd consistency. But a flurry of activity is beginning to stir at the quieter end of  Paseo Drive as two restaurants, a wood worker shop and show room, an interior art business and a music venue/art gallery move into newly renovated buildings, connecting the gaps between already existing studios and businesses. The most recent enterprise to open its doors took me by surprise.  At first thought,  Art of Yoga Studio and Gallery at 2920 Paseo Dr. seems like an unexpected addition to the street, but as its name implies, yoga IS an art form...a beautiful expression of focus and skill that I find quite inspiring to observe and (occasionally) practice.
Owner, Aprilhelen, discovered her passion for yoga after a car accident ended her dance career with the New Orleans Ballet Ensemble.  She began using yoga as a form of physical therapy, but soon embraced this art form with the same intensity that she did with ballet.  "That accident was no coincidence."  Aprilhelen says, "What a blessing in disguise, and such a humbling experience to find one of the greatest gifts known to mankind."
Although Aprilhelen has family in Oklahoma, she had no intention of staying once family duties freed her.  She realized, however, that Oklahoma is on the vanguard of a 'yoga explosion', and that little voice kept nudging her to stay.  "I knew that if I went to the great cities of Boulder or San Francisco, I would just become a numbered yoga instructor."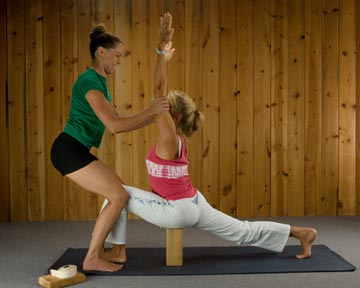 After a few years of instructing at All American Fitness, Aprilhelen finally embraced her daily dream of opening her own studio.  In 2003, she founded 3rd Street Yoga in Edmond, partnering with two other instructors, Rachel Lawrence and Debbie Cope.  Not too long before that, she attempted to open a yoga studio/juice bar  with friend Ed Baldwin.  During that project  Aprilhelen met her husband, Robby Thompson.  "The very first time I wandered onto Paseo Drive, I knew there was an immediate connection."  she says  "The project didn't come to fruition, but now three years after I have built a following, I've returned to this awesome vortex of energy...and Ed has done the same."
        Art of Yoga Studio and Gallery offers a variety of classes on different forms and levels of yoga, as well as Pilates, taiji quan, open meditation, belly dancing and philosophy.  Items for sale include essential oils, an array of yoga inspired gifts and clothes, as well as books, cd's and dvd's on various approaches to Wellness.  Although the studio is now holding classes, the business is still in the process of completion and will begin keeping regular hours after the Grand Opening, which is scheduled for early fall.  Currently, the gallery seconds as a yoga space until the practice facility is ready.   Art of Yoga Studio and Gallery is also the only studio in Oklahoma that will feature 'the yoga wall', which Aprilhelen describes as  "a wall rope system that helps students deepen their practice." More information on the yoga wall is available at yogawall.com.  You can also visit Art of Yoga Studio and Gallery's  website at www.yogaoklahoma.com for class schedules and packages.