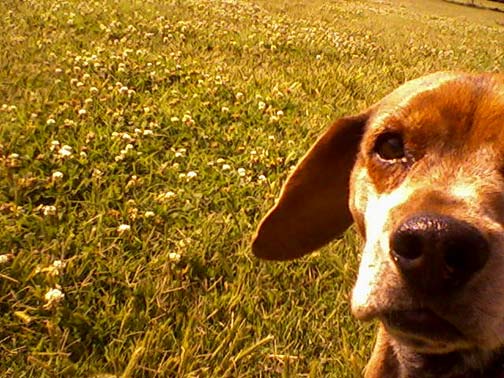 I had
An
I
d e a
a
bout
w
hat
2
W
r i t e
but(t)
I
L o s t
It
N
B
E
T
Ween
Tele
Vision
S
ho
ws.
I am running low on inspiration; inspiration can be a rare commodity sometimes.
I wanna write "George Bush is a JACKASS", so what, who cares, of course he is, it's not the secret that it use to be.
I wanna write about The Wu Tang Clan and how Huey Freeman and the Shaw Brothers helped me get back to The RZA and how much I love Ol' Dirty, but that seems like total bullshit. "Wu Tang Forever!!!"
I wanna let you know how much I am blown away by CARCASS (Liverpool's greatest band since The Beatles and that even includes Frankie Goes to Hollywood) and how Good Evil is making a come back, "CARCASS rules!!!" (How was that?)
I want to alert all the freegans that the youth is back in town going to classes and leaving valuables all around for the diligent fortune hunter. Today I found a discarded pen, sweet.
I wanna tell you about how my dog is determined to poop in our neighbor's yard (So What!!!)
I wish that I could have seen Gravity Propulsion System's crazy ass gig at The Conservatory this week, but I just couldn't make it.
I wanna scream "WAR SUCKS, Stop that shit!!!" but, don't you know that?
Top 5 New Discs added to My Nano This Week:
5. Wu Tang Clan—Forever
4. Carcass—Wake Up and Smell the…Carcass
3. Carcass—Choice Cuts
2. Ol' Dirty Bastard—Return of the 36 Chambers
1. Carcass—Swansong
"The People who Father the Tyrant have to Feed Him." --Plato
Keep it real, Rock it Raw…
O)))!