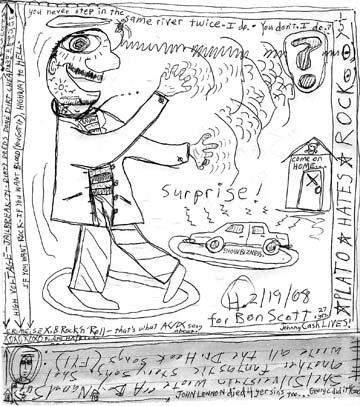 I have been spending a great deal of time (Nano time) with The Beatles lately. It is redundant and useless to praise John, Paul, George, and Ringo, but "Yea Beatles!" Saying "yea" to them is like praising the sun for being warm—it's a known fact of absolute obvious proportions the sun is warm. If Rock is a Religion then The Beatles are God.
Led Zeppelin is Thor (FYI).
With Heather Mills giving Paul the business I have been in sighted to pay close attention to "the cute Beatle" as I reexamine the memorized albums of The Beatles. I choose to elaborate upon the wizardry of Paul's bass playing by discussing John Lennon's rally cry for LSD Generation Unity "Come Together", track one on Abbey Road (1970).

Last month Mikey brought by a crate of '70s jazz records, among them was George Benson's remarkable album The Other Side of Abbey Road; a funky jazz take on The Beatles Abbey Road (Booker T & the M.G.'s also do a (wicked) version of Abbey Road—FYI) The George Benson Abbey (for those who don't know George Benson is a jazz guitar player, he had the hit "On Broadway" (Because I can play this here guitar/ On Broadway) was recorded in 1969, close to release of The Beatles final studio recording (although Let It Be was released last—Phil Specter was splicing the swan song of the greatest of the peace and love bands of the peace and Vietnam generation together, between brandishing a weapon and controlling Ronnie Specter's every move) (Sony Bono's mentor--FYI).
The George Benson recording is loaded with jazz heavyweights including recent Grammy award winner Herbie Hancock on keyboards. The Other Side of Abbey Road is a fantastic version and the group made The Beatles brilliant compositions their own—it's a GREAT listen.
But, in listening it became apparent that George's bass player who will remain unnamed (for the sake of his parents) just didn't have the smooth aggressive hand of Paul McCartney. George's bass Player's fret work was good, adequate, but when you tackle Sir Paul you give yourself a Hell of a Mt. to climb.
On "Come Together" Paul takes elements of surf guitar, avant-garde oddness, and Rock, added a wet thick tone and he is bass playing God.
The second track on Abbey Road is George Harrison's "Something" which Paul makes beautiful (George's solo is angelic).
Also on Abbey Road John's weird and profound "Because" and "I Want You (She's so Heavy)" Paul is the God-idea, up to his cute little smile in Godhood ness.
Yea Paul!
Yea Beatles!
Up in the Manroom I've been listening Heavily to Bon Scott era AC/DC; Jailbreak '74 and Let There Be Rock mainly.
Bon Scott died on Feb. 19, 1980 drunk on vodka sleeping in a friend's car "alcohol poisoning"
To commiserate the anniversary of Bon Scott's death, Bon Scott the greatest blues singer of the Rock 'n' Roll era (no question!) me and five friends rented a hotel room on the 19th (27 yrs. Ago—a Kurt Cobain in age between now and then, a Janis, Jim, or Jimi since he stood stone like at midnight) and We drank Vodka until Everyone had thrown up at least once and then We all went out together singing "Screamer" and We slept together in a stolen Mobil home which We had parked there ahead of time in the parking lot of the hotel (We needed the bathroom and We wanted to keep the celebration authentic by sleeping in a vehicle and also making it cozy at the same time) with no Heat and a belly full of trouble.
In the morning only three of us had died. Last year we only lost two.
All Hale Bon Scott!
To Bon: Ride on…
On Johnny Cash's classic At San Quentin album recorded after the Folsom Prison album, Johnny gives a rebel grunt at "The Man" and connects like a leader among his men. Throughout the record Johnny is very disoriented and wound up, referencing "his dope" and unable to tune his guitar, he passes it off to someone to make it right, he introduces songs and sings other songs, he sings the "song he wrote last night" "San Quentin" twice in a row on the record. Who could get away with that shit except for Johnny Cash?
No one.
Top five new records on my Nano:
5. The Smiths: The Smiths
4. Cream: Fresh Cream
3. Hawkwind: Hawkwind
2. Miles Davis: The Bitches Brew Sessions
1. REO Speedealer: REO Speedealer
The Meatmen are coming!!! Goodbye!
O)))!