Issue #7 April 28th - May 11th, 2006
Yes, Amsterdam IS Cool
By: Amanda Joy
I went to Amsterdam a few summers back...it was my first time going ANYWHERE alone. Before that I had not even crossed State lines in six years. I woke up one morning, with the TV still on, to some travel show about Amsterdam. "I want to go there," I said. I say a lot of things, but every so often I say something that sticks. I didn't have to worry about the "how" part. It seemed that God really wanted me to go because everything I needed to get there just fell in my lap.
I wanted to go because I needed to be stirred up. I needed to feel that no matter where I was on this earth, I would somehow be taken care of.
Mostly, I needed to know that I did not need a plan to be okay, so I only booked lodging for the first five days of a three week trip...which was VERY uncomfortable for me to do. The "what if's" started swirling, but I stuck with my sixteen days of uncertainty. The first three days were spent on a little house boat. This is where I met my local guide for the rest of the trip...Thomas.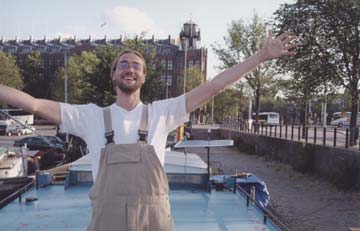 I could have stayed there for a few days, or moved on across Europe like everyone else does, but I fell in love with that city. This alone gave me an access not available to most. I did not want to see Amsterdam like an American tourist...and the locals obliged. I was invited to dinner in peoples homes and was a house guest in a flat that overlooked the Amstel River where the famous "Skinny Bridge" could be seen from the window. I even got to stay in a squat and record a few songs in a recording studio, and took rides in little boats through the canals.
Thomas filled me in on Dutch social customs. It's quite different from the dynamics in Oklahoma. It is considered rude to strike up a conversation with someone you haven't been introduced to. I tried to tell him about what it's like where I come from. Strangers say "hi" to each other, chat in the grocery store line, and engage in philosophical banter in the coffee houses. He did not understand this AT ALL. People in Amsterdam (and in many other places, I imagine) must be formally introduced by another, but once that happens they are quite friendly. People took a liking to my attempts at learning some Dutch phrases, and anytime I was in a group, English would be spoken so I would feel included...even if I was not involved in the conversation.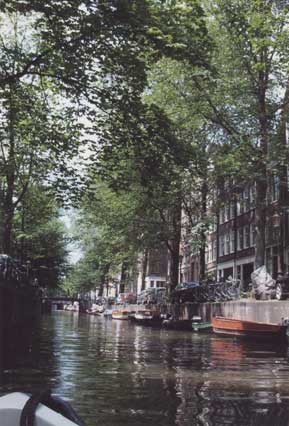 Another interesting difference was the sense of personal space people have over there. One night, while Thomas and I were having dinner at a tiny Thai restaurant, a man came and sat at our table. I looked at my date as if to say, "what the hell?" "This is usual," he said, "We don't talk to him though." I mentioned how much I liked my meal to Thomas, and the stranger at our table said that his was good as well.
This was enough for me to strike up a conversation.  This friendly Greek man told me about his employment in a medicinal marijuana laboratory and his emphatic belief in the New World Order and within minutes all ten people in the restaurant were engaged in this strange conversation. I looked over at Thomas, who was completely dumbfounded. "This is what it is like where I come from." He got it...and he liked it.
Even though I had a guide, I was terrified for most of my trip. The "what if's" would not leave me alone. There was nothing familiar. My lame attempt at finding features of my friends in foreign faces did not work. I realized how much I missed hearing my name. I also realized how desperately I searched for a routine to give me some sense of security...like having coffee at the same cafe every morning or walking the same route to get somewhere, instead of exploring more of that amazing city. I cried a lot. I felt very hollow. I NEEDED something familiar. The solid week of rain did not help my mood either...nor anyone elses.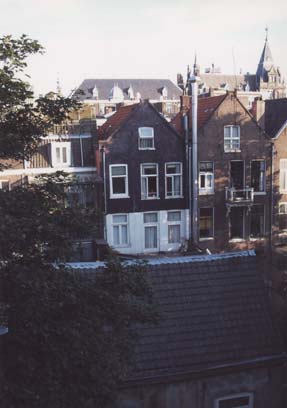 A strange shift happened when the clouds finally broke. An old man who was walking in front of me and Thomas suddenly broke out into song. A few minutes later, so did Thomas, and a few minutes after that, I saw someone else singing...and not quietly to themselves. It was like I was in a freakin' musical. I couldn't help but laugh...and laugh. I laughed so hard I started crying. (It was probably that wacky stuff I'd just smoked, but everything became surreal. It WAS surreal). At that moment I knew that I was right where I needed to be on this earth...and I had to leave the next day. For most of the trip I wished an airplane would fall out of the sky and pick me up and take me home, but on my last day I decided to be as absolutely present as I could and soak it all in...so I could remember.
I was so happy to be returning to my comfort zone again, but once I got back to Newark and the American vibe, I wanted to hitch the first flight back to Amsterdam. It was more of an assault on me than walking out of the "Centraal" Station alone on that first day in a foreign country with its strange sights and sounds and smells. I cried for most of the flight home, .mostly because the reality of what I had done was finally settling in. I, at last, had a chance to sit and think about this journey that I'd embarked on. It's the biggest thing I'd ever done...the biggest leap of faith I'd ever taken. I learned more about myself in that three weeks than I had in the whole year prior. I discovered strengths and shortcomings I never knew I had, and I realized that I can do anything I have the courage to imagine. I still draw upon those great lessons as I live my little life, and I realize now that it can be as big as I let it be...Amen for that.