Vol. 1, Issue #23 Dec. 8th - Dec. 21st, 2006
Venom: The Dark Realm of the Metal Gods
By: Ryk Weston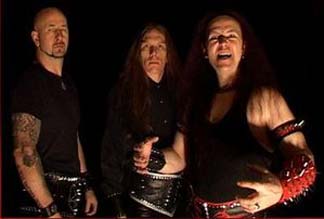 Perhaps no other band in metal history has been hailed as much from fans than UK's own Venom. Arriving from the late 70's during the New Wave of British Heavy Metal movement, Venom has went on to influence nearly all of todays leading metal acts such as Slayer, Metallica, Megadeth, and countless amounts of black metal bands worldwide. Celebrating their 25th Anniversary along with a new album, Metal Black, and a wonderfully compiled box set entitled MMV, Venom shows no signs of slowing down.
In the beginning, Venom was shockingly controversial. Their classic debut, Welcome To Hell, was nothing short of a parent's worst nightmare with it's cover adorning the feared Baphomet symbol and tracks such as "Sons of Satan" and "Witching Hour", yet it was this recording that would attract hordes of eager metal heads ready to take whatever Venom had to offer. Venom toured the U.S. in the early 80's with opening acts such as Metallica, and even punk legends Cro-Mags. So extreme were Venom that they were adorned by both metal and punk crowds alike. And with this, Welcome To Hell became a sought after album. According to Venom's frontman Cronos, the sessions for this album didn't come easy. "It took a lot of planning and time to sort that session out. The other guys didn't have any musical experience, so I had to trick them in the studio and pretend we weren't recording as their nerves were getting the best of them. But we managed to get the tracks recorded the best we could.", says Cronos.
With a discography that dwarves many metal acts in comparison, one must imagine the difficulty it took to compile material that would fairly represent Venom's 25 year history. Says Cronos, "Yeah, there was so much stuff I didn't use. What I was trying to create was a box set for the fans. I've tried to make something they would enjoy, something from the band this time and not some suit in an office. I've spent many months going through my private collection of photos and artwork for the booklet." And it shows. MMV is ultimately the essential box set for any old school metal die hard.
It must be somewhat flattering to Venom to know that they have inspired so many of today's metal acts. According to Cronos, "We consider ourselves a catalyst for the inevitable. This scene was going to happen anyway. We just got it kick started. At the back end of the 70's when rock was becoming quite lame, Venom decided to inject some punk back into the rock and we invented black metal. Venom survives because metal survives. It goes hand in hand. We stay relevant because we live in the dark realm of metal. This is our home.",  Cronos says with a shrug.
One noticeable attribute of Venom is that their fanbase is as steadfast in loyalty than your average fly-by-night headbanger. After 25 years, Venom must surely encounter new fans from around the globe. "We have new fans from all walks of life", says Cronos. "We have the more recent fans of bands like Slipknot who mention they like Venom in their interviews. We had the pantera fans do the same when Phil Anselmo kept walking onstage with a Venom t-shirt on. But we also have now Foo Fighter fans who bought the Dave Grohl project called Probot where I sang a track for Dave called "Centuries of Sin". So we have a very varied fanbase now", says Cronos.
Though Venom has never been known for having the most polished production in any of their releases, this may all be for the reason that the boys in Venom like the grit that metal used to obtain when studio time was scarce for bands like their own. "Underground music is my favorite. Raw, brash, and badly recorded is the best int he world. A good song is a good song whether it's recorded good or bad. A lot of young bands are either not that experienced on their instruments or are under pressure inthe studio with time constraints. So I listen to the songwriting skills, the way the tracks are compiled, the structure...I look for these special qualities in young underground bands. There's some gems out there waiting to be the next big thing", says Cronos.
For fans who didn't have the chance to see Venom tour the States this year, many will be pleased to know the band is working on a full package DVD for a 2007 release. "Yes, I'm in negotiation now. We're looking at a whole range of other video footage to add also. There's so much stuff once you start making lists of what Venom did. And even if this doesn't happen for whatever reason, we are still planning to release the likes of the '7th Date of Hell' from the 1984 Hammersmith Odeon show in London, plus the original promo video footage of 'Witching Hour' and 'Bloodlust'", remarks Cronos.