Vol. 2, Issue #10 June 8th - June 21st, 2007
The Underwood Massacre: Uncompromising Brutality
By: Ryk Weston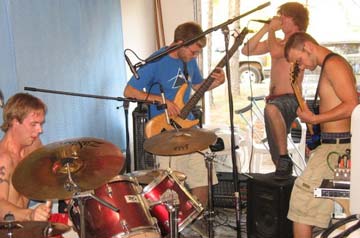 Determination is defined in Webster's as "a firm or fixed purpose", and in the case of The Underwood Massacre, this Norman death metal act is set dead on the purpose of becoming Oklahoma's most brutal metal juggernaut yet. Having formed nearly a year ago, The Underwood Massacre is steadily solidifying a name for theirselves in the Oklahoma metal scene. Since the disbanding of Exitium, another extreme metal outfit from Norman, it is now up to The Underwood Massacre to carry the torch, and they do so quite well.
The genesis of The Underwood Massacre begins with a simple jam session which took place over a year ago. Says frontman Greg Hambrick, "Brandon Kraut (guitarist) and Zoomy (bass) played guitar and bass for a long time in previous bands. Then they actually heard Sam Craig (drums) playing the drums a few doors down from Zoomy's house in his garage, doing like some death metal blast beats and stuff. They ended up talking to him about laying down some tracks, and this was probably a year ago. Then Sam posted a thing on the Internet and I responded to it. They were looking for some brutal deep vocals and some highs, and I didn't know any of the guys. I went by and we laid down some shit, and they dug it."
Since then, The Underwood Massacre has taken on quite a following. Consider their very first show at Studio 360 in Downtown Norman on March 10 where the band played to nearly a packed house. "That show was our first show we played. We'd actually been playing together for 9 or 10 months total, and it just seemed to work. We get good vibes off each other. It's been pretty shocking to see how many people have been actually turnng up to the shows. We're definitely surprised. It's been a blast", says Greg.
Probably one of the more shocking aspects of The Underwood Massacre is the origins of the band name itself. Greg laughs when asked to explain the history and replies, "We fucked around with a couple of names and they didn't work out. That whole thing happened with Kevin Underwood out in Purcell where he abducted that little girl and then killed her and cut her up, tried to severe her head and put her in a Rubbermaid tub. He had meat tenderizers, meat skewers, and all sorts of things. he was pretty much a cannibal. We figured since it was close to home, because Purcell's like 10 miles away, that we'd claim our little area here." Shocking, but we're talking about death metal here, folks. Controversy always surrounds this subgenre of metal. "It's always kinda funny explaining to people who ask. We were fucking around and I was like, "If we really want to keep the shit heavy and turn some heads, we should name it after that!". Some people have actually told me that it's too soon. Whatever. We went ahead and took it anyways."
If there's one thing that can be said about The Underwood Massacre is their uncanny stage presence. Anyone who has been witness to their musical onslaught can testify that these four members are no slouches onstage. "Everyone I know says I'm a pretty intense and loud person", laughs Greg. "I'll be pretty quiet nefore the shows, just thinking about it. For some reason when I'm up there, man, I just lose my mind and go crazy. I really can't stand seeing a band with a boring frontman and a boring live show. I just want to see some energy put forth." And energy is exactly what The Underwood Massacre delivers.
One thing you may not know about The Underwood Massacre is that the group actually consists of OU students. It's true. The members even went as far as assembling an "OU metal club" at one point. Says Greg, "Yeah, it's kinda died out a little bit. We called it 'The OU Legion of Metal'. It was pretty bad ass. We held a few meetings here and there, but it's kind of died out honestly, man. It definitely did attract a lot of people to shows."
With a full length album in the works, and the various live shows The Underwood Massacre have planned for this Summer, the world is their oyster. It's not surprising that Myspace has helped our death metal heroes further the cause of brutality. "It helps a lot. I mean, it's free and you can put music up there. It's absolutely helped us. Free and easy always works for me", retorts Greg.
You can catch The Underwood Massacre at Studio 360 on June 16 with Efuneration, Horde Casket, and many more!
myspace.com/theunderwoodmassacre