Vol. 2, Issue #18 Sept. 28th - October 11th, 2007
Scott Windsor of Umbrellas
Interview By: Becky Carman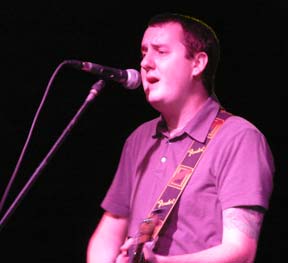 Willingly transplanted from sunny southern California to the temperamental skies of Norman, Scott Windsor is a shape shifter. From the beach to the Midwest, and from former project The Lyndsay Diaries to current indie rock outfit Umbrellas (and a host of related changes in between), it's been a whirlwind couple of years for Windsor.
First, the relocation—citing a mixture of financial and creative reasons, Windsor took up permanent residence in Oklahoma in 2005. Professionally, the move brought him that much closer to his friends and fellow musicians, many of whom appear in the liner notes of Umbrellas' second full-length album, "Illuminare," released in 2006. This may explain why the former solo artist has moved toward a group dynamic, forfeiting some creative control and opting for a little leniency in the decision-making behind the record.
"I think it's been easy because the people I work with are so talented that it always goes in a good direction," Windsor said. "I still have the option of saying, 'Hey, I don't know if that works,' and it's usually fine, but working with Chad Copelin, who produced the last two things we've done—he's really talented and always has great ideas for stuff I've written."
While Windsor has adjusted seamlessly to being a member of a collective, Umbrellas may be moving in the opposite direction. Until this year's "Beach Front Property" EP, all of Windsor's albums were released by record label The Militia Group. As the band's contract with TMG has been fulfilled, the EP, which was recorded at Black Watch Studios in Norman, was funded, printed and distributed solely by the band.
"I thought it would be fun to go back to the basics and have a hand in every aspect of the music. We wrote it, recorded it, did all the artwork, hand numbered and sold it to people ourselves," Windsor said. "Also, ["Illuminare"] had been out a year, and we'd been touring so much on it that I thought it would be nice to have some new material. It was a tour-only EP, too, so that was some incentive for people to come out to the shows."
The band is still successfully touring the material, and while Umbrellas definitely calls Oklahoma home, they haven't quite achieved the decidedly homey vibe of some other staple local acts. Umbrellas often sees its biggest crowds at shows along the coast, though the Oklahoma following is on the rise.
"It's been nice to see some steady growth in our audiences in Norman and OKC," Windsor said, but he hesitates to call it a hometown crowd.
"I'd like to think it's local support," Windsor said, "but half the people at our shows don't know we live here. Kids at Opolis will ask, 'When are you coming back?' and I have to tell them, 'I live two blocks away.'"
Mailing address aside, diversifying the audience at home and abroad is important to the future success of Umbrellas, and Windsor acknowledges the challenges of escaping the oft-unwarranted negative stigma attached to having a largely younger fan base. On their current tour, Umbrellas are supported by Austin, Texas's Zookeeper, the current project of former Mineral vocalist Chris Simpson.
The politics of booking agencies aside, Windsor wanted Zookeeper as support because he's a fan, though there is another notable perk attached to the pairing.
"There was another reason I wanted them there—the kind of older, kind of indie band. It adds a different, cooler dynamic to the tour," Windsor said. "I think it's good to have diversity, but it's still not too crazy or different that people who like us wouldn't like them."
Judge the success of the dynamic for yourself—Umbrellas, Zookeeper and Lydia will play at Opolis at 113 N. Crawford in Norman October 7.