Vol. 3, Issue #12 July 4th - July 17th, 2008
Tulsa's Brady Theater Serves Up a Legend
By: Damon Blalack
O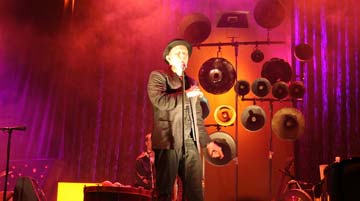 n June 25 the Brady Theater of Tulsa was host to the indelible talents of Tom Waits, a music legend whose influence on the pop-culture landscape often takes an odd turn. He partially influenced the famous Muppet creation Rowlf the Dog, and has been responsible for many of rock's biggest hits via cover versions by artists such as The Eagles ("Ol' 55") and Rod Stewart ("Downtown Train").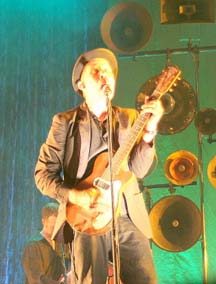 Waits' fan base is a rabid yet eclectic mixture of young and old, with diverse taste and one thing in common - they love Tom Waits. During his storied career he's evolved musically to cover a very broad range of styles, and has become a notable character actor in independent and large-budget films alike, from Jim Jarmusch's Down By Law (1986) to Francis Ford Coppola's Bram Stoker's Dracula (1992).
The last time Tom Waits played the Sooner state was 1974, when he opened for Frank Zappa at the OKC Fairgrounds. The announcement of the reclusive musician's recent stop in Tulsa surprised many, but because of its old time feel and sound, the Brady Theatre attracts serious artists. On August 27th it will feature another legend (that Waits is often compared to) when Bob Dylan takes the stage. (As a Newsweek music critic mused in 1999, Tom Waits is "more Dylan than Dylan," referring to Waits' increasingly stripped-down approach to his raw tunes, accompanied by his raspy whiskey-snarl voice.)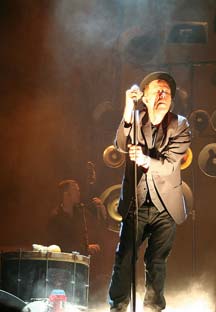 The show started right on time, and Waits came directly on stage with no opening band. The 58-year-old hobo crooner was accompanied by his sons Casey on drums and Sullivan on congas (for one song), along several other musicians who played a wide variety of instruments including: upright bass, harmonica, saxophones, bass clarinet, guitar, keyboard, maracas, piano and more.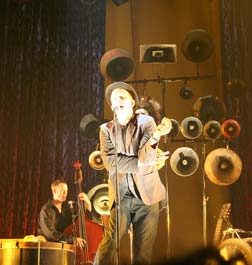 Waits played for two and a quarter hours to a nearly-packed house, alternating heartfelt melodies with raucous roadhouse tunes. "Grand Weepers and Grim Reapers" are how he refers to the music he co-writes with his wife, Kathleen Brennan. He truly feels the music he performs, stamping up a dirt cloud around himself akin to a barnyard rooster. Waits played pseudo-carnival-barker, and hypnotized the crowd with a blinding glitter-coated bowler hat that he turned into a disco-ball by rotating it under a heavy spotlight. He then basked under a sudden deluge of glitter from the ceiling, and wittily-deflected the many shout-outs from zealous audience members. Tom took time at the piano to tell his customary outlandish tall tales; one could expect no less from the man who coined the famous phrase, "I'd rather have a bottle in front of me than a frontal lobotomy."
Oklahoma music fans have a real gem in the Brady Theater, which is clearly an increasing contender in live-music and comedy entertainment. Hopefully it won't be another 30 years before Tom comes back!